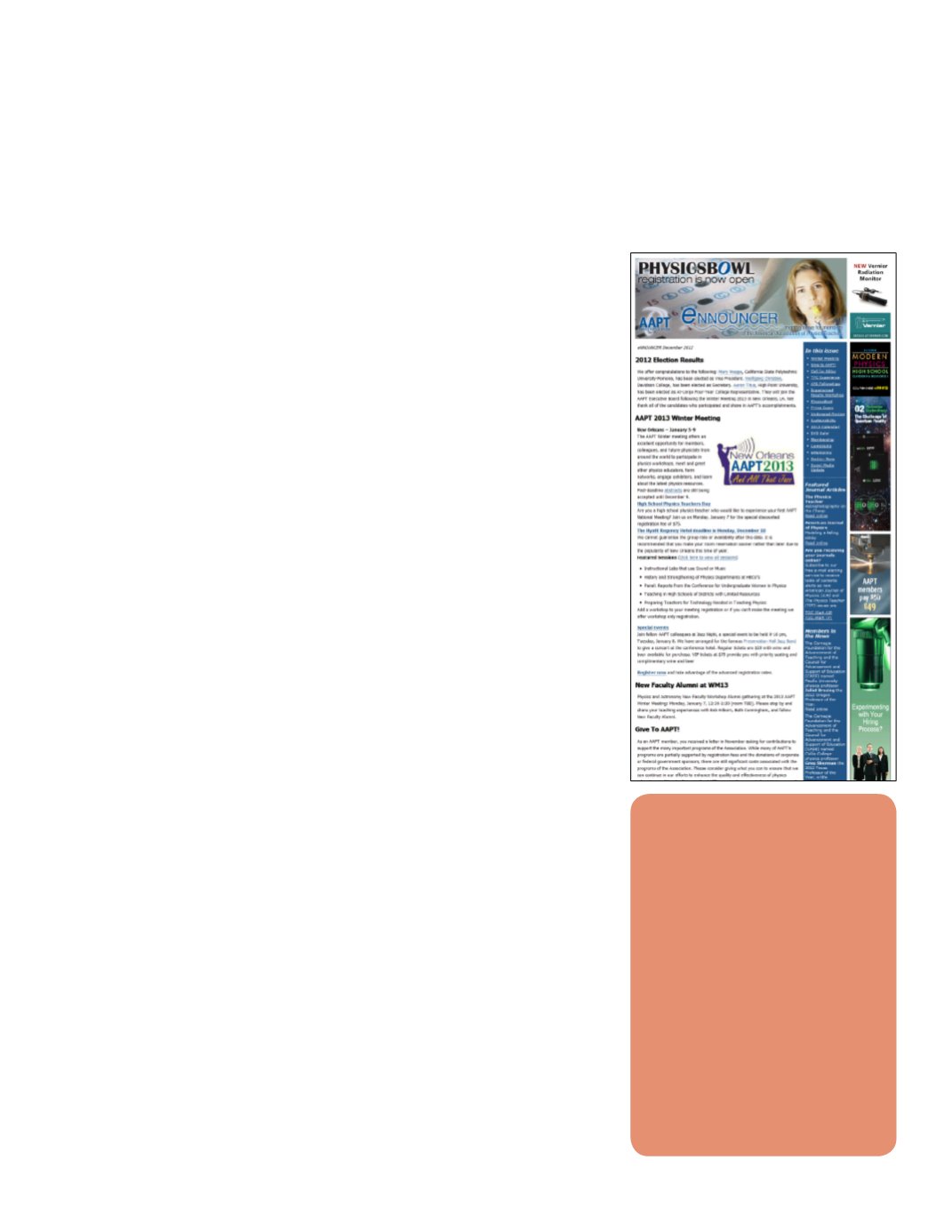 2012 Top AAPT News Stories
Listed below are highlighted news stories for 2010 from the
To read the full story go to
January
Budget Sequestrations Threaten Future Funding of Science
WM12 Symposium on Education Policy: Physics Education Research and Public Policy
February
WM12 Plenary and Award Sessions
New PER Users Guide: Evidence Based Resources for Teaching Physics
March
AAPT Takes Action on Bill Requiring Disclosure of Proposals and Peer Reviewers
April
Barbara Lotze Scholarship Winners
Philip Sadler Named as Recipient of the 2012 Robert A. Millikan Medal
May
New PhysTEC Sites Announced
Summer Meeting Awards and Citations
June
2012 U.S. Physics Team Chosen
AIP Endorses Letter Urging Congress to Consider STEMEducation a National Priority
July
Summer Meeting 2012, Physics: The Experimental Core
August
2012 U.S. Physics Team Wins Three Gold and Two Silver Medals
SM12, Physics: the Experimental Core Highlights
Department Chairs Conference Presentation Available
September
AAPT National Executive Board Election
2012 China-U. S. Advanced Forum on Physics Education
October
Winter Meeting Preview and Awards Announced
November
AAPT/PTRA Serve as a Core Partner in APEX
AAPT Undergraduate Physics Program Review
December
National Election Results
AAPT 2013 Winter Meeting Opportunities
eNNOUNCER
As of December 2012 the online-only news publication and email newsletter,
inboxes for 4 years. Distributed to members by e-mail,
issues are published at the beginning of each
month and archived on AAPT.org. The
contains dates and deadlines for upcoming conferences, meetings,
symposiums and events, member news and information, and recent news from the worlds of physics and teaching.
Topics covered include organization specific items, action items and notable dates, news from the AAPT Executive Office,
member news, section news, recommended reading, and science and education news.
eNNOUNCER publishes monthly news
• Recent AAPT related events
• Scholarship and fellowship
• Science related festivals
• Video and photo contests
• Career and teaching opportunities