eNNOUNCER October 2012
New Orleans… And All That Jazz
An exciting program is under construction for the 2013 Winter Meeting.  Whether you come to New Orleans for the history, the culture, or the physics you will find ample opportunities for enrichment.  They say that jazz was born in the 1890's when Buddy Bolden put his cornet to his lips and blew a few hot notes to a cool tune.  Just that simple and jazz, an American original and world favorite, was born.The program includes "Instructional Labs that Use Sound and Music," "Physics of Musical Apparatus," "The Jazz of Physics Teaching," and more.  Abstracts submitted after the October 3 deadline will be included in the Post-deadline session.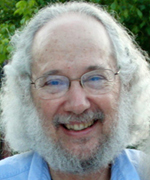 The 2013 Oersted Medal Talk by Edward (Joe) Redish (photo), "The Implications of a Theoretical Framework for PER," will showcase his work within the Physics Education Research Community.
                      Read more.
                      David Pines will receive the John David Jackson Award for Excellence in Graduate Physics Education in recognition of his authorship of "The Many Body-Problem" and "Elementary Excitations in Solids" and the two-volume text/monograph, "The Theory of Quantum Liquids," written with Philippe Nozieres. Read more.
                      Register and make your travel arrangements early. Register online.
  Abstract submission deadline is October 3. Submit your abstract now!
  Save the Date:
  Summer Meeting 2013, July 13-17 (Portland, Oregon)
                      Winter Meeting 2014, Date TBD (Orlando, Florida)
AAPT National Election
The election of officers for Executive Board service beginning in 2013 is in progress until midnight (eastern daylight time) November 2. This is a totally electronic election. If you have an email address on record the information with instructions on how to access the ballot and vote electronically arrived via your email box. If you don't have an email address, your instructions on how to vote electronically were mailed to you in September. Nominations are open for the 2014 election. Read about positions up for the 2014 election.
                      Get the nomination form.
Call for Editor: The Physics Teacher
AAPT invites applications, inquires, and nominations for the position of Editor of The Physics Teacher (TPT), with an appointment to begin in the summer 2013. TPT is a prestigious journal/magazine dedicated to the advancement of physics teaching at the highschool and introductory college/university levels. The editor has full responsibility for the content of the journal. Read more.
2012 F=ma Contest Open

Each year, AAPT and the American Institute of Physics (AIP) sponsor a competition for high school students to represent the United States at the 2013 International Physics Olympiad. The mission of the U.S. Physics Team Program is to promote and demonstrate academic excellence through preparation for and participation in the International Physics Olympiad. Register online.
Barbara Lotze Scholarships for Future Teachers
AAPT offers scholarships for future high school physics teachers. These scholarships, supported by an endowment funded by Barbara Lotze, are available only to U.S. citizens attending U.S. schools.  Undergraduate students enrolled, or planning to enroll, in physics teacher preparation curricula and high school seniors entering such programs are eligible. Successful applicants receive a stipend of up to $2,000. The scholarship may be granted to an individual for each of four years.  Applications will be accepted at any time and will be considered for recommendation to the Executive Board at each AAPT Winter Meeting. All applications with all materials, including letters of recommendation, received by December 1, will be considered for recommendation at the winter meeting of the AAPT Executive Board. Read more. We encourage all applicants to use the new electronic submission process for their application. However, applicants may choose to complete the PDF application form and submit their completed applications via U.S. mail to be received by the December 1 deadline.
The Frederick and Florence Bauder Endowment
The Frederick and Florence Bauder Endowment provides grants to support special activities in the area of physics teaching. The deadline for applications to request funds is  December 1.
Consider Submitting an Entry to the Apparatus Competition
The AAPT Apparatus Competition recognizes, rewards, and publicizes worthwhile contributions to physics teaching through lecture demonstrations, instructional laboratory equipment, and interactive exhibits.  The Competition is held annually during AAPT's summer meeting and is open to all members with entries targeting all levels of physics education from K-12 to undergraduates to the general public. See the entry selection criteria. Entrants must notify the Apparatus Competition Director in June 2013 of their intention to enter the 2013 Apparatus Competition, including a statement about services required to display the apparatus.  An official application packet with entry form, rules of eligibility and judging, safety guidelines, and competition requirements will be available in the spring 2013 on the AAPT website.
AAPT Undergraduate Physics Program Review Project
AAPT recognizes that undergraduate physics programs benefit from receiving feedback on the quality of the program.  In order to assist physics programs that are planning a review, AAPT maintains a list of reviewers whose name will be supplied to institutions submitting requests.  Requesting institutions are responsible for selecting, contacting, and contracting the reviewer.  Furthermore, reviewers represent themselves, not AAPT.  AAPT members can sign up to be an external reviewer for this program.  To be a reviewer, you must meet a number of qualifications - see the qualifications. If you fulfill the qualifications and are interested in serving as an external reviewer, please send a short message to eo@aapt.org to begin the process for being placed on the list.  If your department or program is interested in requesting names of potential reviewers, please send a request to eo@aapt.org or via fax at 301-209-0845.
National Two-Year College Physics Meeting IV
Held in tandem with the AAPT 2013 Summer Meeting
                      The 2013 TYC Meeting, "Class Room Pioneers: Trail Blazing in Undergraduate Physics Education" will be Saturday, July 13 in Portland, Oregon.  The meeting will feature Sample Classes, Mini-Workshops, and Demo/Share sessions focusing on Classroom Innovations, Classroom Issues, Education Issues, and Building the TYC Physics Community.  TYC meeting registration is independent of the AAPT National Meeting. To volunteer with program organization or to contribute a presentation contact: Bill Waggoner, Keith Clay, Greg Mulder, Dennis Gilbert, Adrienne Battle, or Renee Lathrop.
Betty Preece (SEES) Memorial Fund Supports Science Education for Minority Children
A long-time member of AAPT and Distinguished Service Award recipient, Betty Preece was an outstanding model of dedication and achievement within the science community.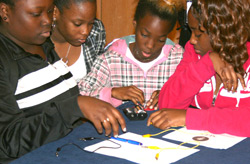 One of the many causes to which Betty gave her time and talents was the Students Exploring Engineering and Science (SEES) Program, which she founded. This program provides 100 minority, low-socioeconomic students with the opportunity to engage in three hours of hands-on science activities during the AAPT Winter Meeting each year.  AAPT provides lunch, transportation, career information, and science materials.
                      AAPT established the Betty Preece SEES Memorial Fund in her honor. Given Betty's history of caring for the education of minority children, we believe this gesture would have pleased her greatly. The endowment of this fund would ensure the sustainability and continuation of the program. All gifts to this fund will be used to sustain and expand this outreach to children who might not otherwise have the opportunity to participate in science activities.
                      If this program can change the direction of even one at-risk student's life, that change would be priceless. It will take $30,000 to fully endow the Betty Preece SEES Memorial Fund. Honor Betty by making an investment in the lives of these students. Make your gift online.
Call for AAPT Awards Nominations
Recognize excellence in physics education! The Awards Committee is seeking nominations for all of our awards, citations, and medals. AAPT members are urged to review the descriptions on the AAPT website and then, following instructions, to nominate individuals who should be considered for any of these awards. Nominations remain active for five years.
Is Your Membership Up-to-date?
It may be time to renew and ensure continuity of your benefits, services and valuable AAPT journal content. Log into your member record at AAPT.org using your ID and password. You can verify your status from your profile page and use the link provided there to renew. If you have any questions, or concerns or need further assistance, feel free to contact Member Services at 301-209-3333, or by e-mail at membership@aapt.org.
---

Materials from the 2012 "Conference on Laboratory Instruction Beyond the First Year of College," held at Drexel University this summer, are available for download from ComPADRE.  Review invited talks, posters, workshop materials, and discussions at breakout sessions that  can be searched  by keyword or author, or browsed by presentation type. These resources and the presentations from the 2009 "Topical Conference on Advanced Laboratories" are also available through searches on the Advanced Laboratory website using the search box at the top of every page.
---
Section News
October 2012 Section Meetings
                      Michigan Section Fall Meeting - Oct. 6
                      Hope College, Holland, MI
  MIAAPT online
  Southern Ohio Section Fall Meeting - Oct. 13
                      Oak Hills High School, Cincinnati, OH
  SOSAAPT online
  Kentucky Section Fall Meeting - Oct. 20
                      with the Kentucky Academy of Science Eastern Kentucky University
                      Richmond, KY
  KAPT online
  Wisconsin Section Fall Meeting - Oct. 26-27
                      University of Wisconsin - Plattville, Plattville, WI
  WAPT online
                      See the September issue for more October meetings.
                      The July 2012 Section News is now online.
                      To list your section meeting in the AAPT Calendar of Events, e-mail the information to mgardner@aapt.org. See the December 2011 Section News.
---

Are You a New Physics Teacher? Could You Use a Little Help?
The AAPT eMentoring program is designed to connect pre-college physics educators in need of additional guidance with experienced pre-college physics educators. Learn more.
---
The Physics Educator
Earlier this year AAPT  introduced an online, members-only site called The Physics Educator (TPE). TPE's mission is to promote interest in and the advancement of physics education at all levels.  At members' request, new features have been added including a rating system, a forum, and more.  Further suggestions are welcome. Login and try it out.
---
Invitation to Apply to MIT Women's Initiative
The MIT Women's Initiative is a non-profit student group at the Massachusetts Institute of Technology that sends pairs of women graduate and undergraduate students to approximately 10 school districts across the United States each January. These women present to middle and high school girls in order to inform them about what engineering is and encourage them to maintain an interest in math and science to prepare themselves for the possibility of a career in engineering. They are currently seeking applications for schools that would like presenters to visit their area. Read more online. Apply online. The application deadline for January, 2013 is October 15, 2012.
Registration Now Open for the 2013 Conferences for Undergraduate Women in Physics
Conferences for Undergraduate Women in Physics (CUWiP) are three-day regional conferences for undergraduate physics majors. The 2013 conferences will run Friday evening, January 18 through Sunday afternoon, January 20, 2013. For 2013, there will be six regional conferences; students are encouraged to apply to the nearest conference. Students must apply by November 15, 2012 for consideration. Read more online.
2012 Request for PhysTEC Sites
The Physics Teacher Education Coalition (PhysTEC) is requesting proposals for new sites.  The deadline for submitting an initial proposal is October 26. Proposals are requested for comprehensive sites (up to $300k) and targeted sites (up to $75k).  Comprehensive sites are expected to implement the PhysTEC key components and show a substantial increase in physics teachers.  Targeted sites provide an opportunity to explore innovative models for improving physics teacher education. See the Request for Proposals (RFP).
                      A webinar on the PhysTEC RFP will be held on October 4 at 3 p.m. ET.
  Register online.
PhysTEC Conference Call for Workshop Proposals
PhysTEC invites proposals for 90 minute workshop sessions at the 2013 Physics Teacher Education Coalition Conference being held March 16-17, 2013 in Baltimore, MD. The theme for the conference is Preparing the Next Generation of Physics Teachers, though proposals related to to any aspect of physics teacher preparation will be considered.  Proposals are due by 5 p.m. EDT, October 12, 2012. Apply online.
2012 Colorado Learning Assistant  Workshop
October 28-30, 2012 ~ Boulder, CO
                      The PhysTEC project will co-sponsor its fourth workshop focusing on the University of Colorado's Learning Assistant program this October. The Learning Assistant program is a highly supported peer teaching experience that has been shown to improve students' learning and attitudes toward science in undergraduate lecture classes and recruit talented science and math students into teaching careers. Visit the workshop webpage to view the agenda and to register: View the agenda and register.
Call for Manuscript Proposals
The Physics Teacher Education Coalition, the American Physical Society, and the American Association of Physics Teachers announce a call for manuscript proposals for a new peer-reviewed book entitled Effective Practices in Preservice Physics Teacher Education: Recruitment, Retention, and Preparation.  This book seeks to provide a practical guide to innovative, state-of-the-art programs, and will include papers and case studies covering a wide variety of topics in preservice teacher education.  Manuscript proposals are due February 1, 2013. Review call for manuscript proposals.
Paid Fellowship for K-12 STEM Teachers
The Albert Einstein Distinguished Educator Fellowship Program is a paid fellowship for K-12 science, technology, engineering, and mathematics (STEM) teachers. Einstein Fellows spend a school year in Washington, D.C., serving in a federal agency or on Capitol Hill. Applications are due by December 6, 2012. Apply online.
Alabama A&M Awarded Five-Year Grant
Alabama A&M University has been awarded a five-year, $8 million grant from the National Science Foundation to boost physics education in the state's high schools. NSF will fund through 2017 a proposal by AAMU physicists to transform secondary physics education with the "Alliance for Physics Excellence" (APEX). The AAPT Physics Teaching Resource Agents program is an integral part of the APEX effort. Read online.
Don't Miss Out on the 2012 Quadrennial Physics Congress!
Once every four years Sigma Pi Sigma, the physics honor society, hosts the Quadrennial Physics Congress (PhysCon)—a unique meeting that brings together undergraduate and graduate students, practicing physicists, and physics alumni for a conference packed with cutting edge science and reflection on the role of the scientist in society.
The 2012 PhysCon is themed "Connecting Worlds through Science and Service" and will take place Nov. 8-10 in Orlando, Florida. The meeting combines round-table discussions, distinguished speakers, and tours of NASA's Kennedy Space Center. To learn more about PhysCon, visit www.spscongress.org Register by September 17 to receive an early bird discount!
International Exchange and Research Opportunities for U.S. Classroom Teachers
The U.S. Department of State's Bureau of Educational and Cultural Affairs offers Fulbright grants for U.S. primary and secondary classroom teachers, guidance counselors, curriculum specialists, curriculum heads, Talented and Gifted coordinators, Special Education coordinators and media specialists/librarians to participate in international exchanges during the 2013-2014 academic year through the Fulbright Classroom Teacher Exchange Program (CTE) and the Distinguished Fulbright Awards in Teaching Program (DA).
                      Read more online.
                      The application deadline for the CTE Program is October 15, 2012.
  Apply online.
                      The application deadline for the DA program is December 15, 2012.
AIP State Department Fellowship
The American Institute of Physics is now seeking applicants for its 2013-2014 State Department Science Fellowship. The application deadline is November 1. Read more and apply online.
Presidential Candidates Respond to Science Questions
The views of presidential candidates Barack Obama and Mitt Romney on fourteen major scientific issues have been released by Science Debate 2012.  The responses, in their own words, provide the candidates' views on innovation policy, climate change, research funding, education, energy, space, critical natural resources, biosecurity, food, fresh water, the Internet, ocean health, vaccination and public health, and the utilization of science in formulation of public policy.  AAPT, as a member society in AIP, participates in Science Debate 2012. Read the questions and responses.
Infrared: Beyond the Visible
The answers to some of the universe's greatest mysteries are being beamed through the night sky in light we can't see with human eyes ... but it won't be invisible to us forever. Explore the wonder of infrared astronomy and the promise of the upcoming Webb Space Telescope through the technological wizardry of paper cutouts. Informs you faster and guaranteed to contain 100 percent more llamas than any astronomy video ever produced before! See the video. Learn more.
Change the Equation Releases 2012, K-12 STEM Vital Signs
Educational funding organization, Change the Equation, unveiled its 2012 Vital Signs, which measure the health of the K-12 STEM learning enterprise, state by state. Created in collaboration with the American Institutes for research, Vital Signs offer the most comprehensive available picture of STEM in your state—the demand for and supply of STEM skills, what states expect of students, students' access to learning opportunities, and the resources schools and teachers have to do their work. An interactive map let you choose your state and review its progress. Read more.
Join the Cassini Science Team
An Essay Contest for Students in Grade 5 to 12
                      The Science Planning Team picked three targets to be imaged. Pick your favorite target, and write a persuasive essay describing the scientific merits of your choice. Your decision should be based on which image would yield the most scientific results. Read more.
About eNNOUNCER
AAPT's eNNOUNCER is a service to members of the American Association of Physics Teachers and is produced by the AAPT Executive Office.  Other stories of significance appear in our Announcements Archive and our archive of Press Releases. E-mail suggestions, news items, comments, and unsubscribe requests to: aapt-news@aapt.org.
                      Deliverability of this publication depends on your e-mail address being current. If you have recently changed providers, jobs, or schools, please update your profile online at aapt.org as soon as possible. Adding AAPT-News@aapt.org to your address book will also help ensure that your copy is delivered to your mailbox.
Advertising and Archiving
                    See our Media Kit for advertising information or email mmormile@aip.org. All eNNOUNCER issues are archived and information about AAPT publications is online.
Note on External Links
                    Links to non-AAPT sites are intended as a service to readers interested in AAPT, physics, and education. These links do not reflect an endorsement of any content or product. Also, due to the evolving nature of websites, some external links referenced in the eNNOUNCER may expire over time.
Thanks for your readership and your support of AAPT.
© 2012, American Association of Physics Teachers