2008 U.S. Physics Team Wins 4 Gold and 1 Silver Medals
U.S. Physics Team 'Brings Home the Gold' (and a Silver) From International Competition
FOR IMMEDIATE RELEASE

Contact:
Martha Heil
American Institute of Physics
301-209-3088
mheil@aip.org
July 29, 2008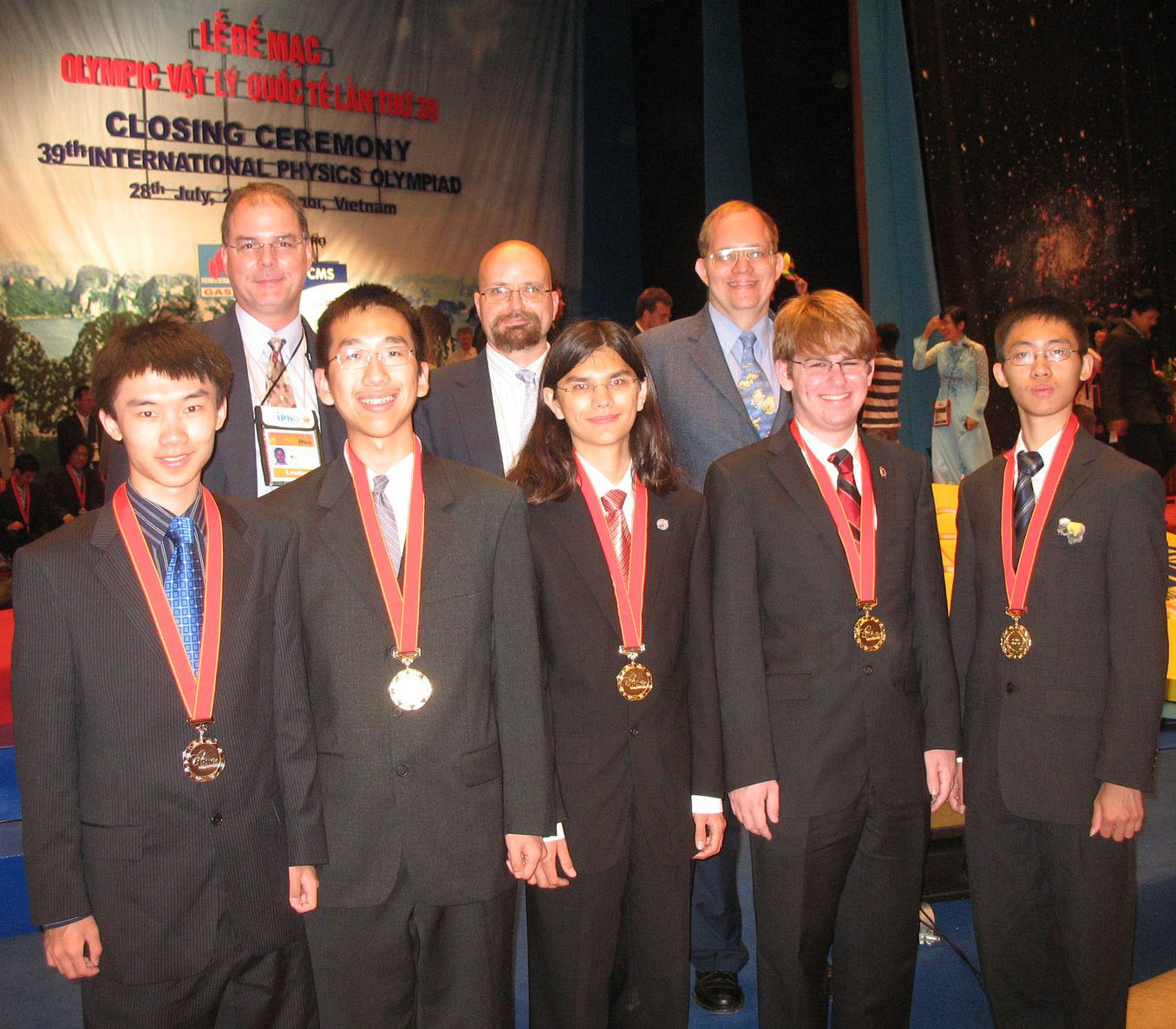 Front Row (left to right): Rui Hu, Edward Gan, Tucker Chan, Joshua Oreman, and Danny Zhu
Back Row (left to right):
Co-Academic Director Paul Stanley, Senior Coach Warren Turner and Co-Academic Director Robert Shurtz
College Park, MD – The 2008 U.S. Physics Team returns home triumphant this week, having earned four gold medals and a silver medal at the International Physics Olympiad held in Hanoi in Vietnam. Only the Chinese mainland and Taiwan, who tied for first, ranked higher than the U.S. team, which placed second along with South Korea and India.
The U.S. Physics Team's gold medalists are:
Tucker Chan, Princeton High School, Princeton, NJ;
Danny Zhu, Stuyvesant High School, New York, NY;
Edward Gan, Montgomery Blair High School, Silver Spring, MD;
Joshua Oreman, Harvard Westlake School, North Hollywood, CA;
and its silver medalist is Rui Hu, The Charter School of Wilmington, DE.
Chan, Zhu, and Hu graduated from high school this past spring; Gan and Oreman have one more year to go.
The students were selected in June after a two-phase national contest and a ten-day training camp, conducted by coaches chosen by the American Association of Physics Teachers in College Park, MD.  
Photos and student biographies are at 
http://www.aapt.org/olympiad2008/team.cfm?Winners=1
   There is an online blog of the students' adventures since April at
http://aapt-physicsteam.blogspot.com/
The international competition over, these students look toward a bright future. "Here is a side of America to celebrate," said Charles Holbrow, executive officer of the American Association of Physics Teachers. "Congratulations to the US Physics Team and their coaches. We should all be proud of these talented young people. And with the rest of the world, we should admire the achievements of all the Physics Olympiad participants. The sheer intellectual pleasure that radiates with youthful energy from their work together is a delight to behold."
The five-member team was sponsored by the U.S. physics community. The contest and the students are supported with funds from ten professional societies: American Physical Society, The American Association of Physics Teachers, American Geophysical Union, The Society of Rheology, American Astronomical Society, American Acoustical Society, American Association of Physcists in Medicine, American Crystallographic Association, the AVS, and the Optical Society of America, which contributed one of the questions used on a selection exam.
About the Olympiad
The U.S. Physics Olympiad Program is a joint initiative of AAPT and AIP. AAPT began the program in 1986 to promote and demonstrate academic excellence. The International Olympiad is a nine-day competition among pre-university students from more than 80 nations.
About AAPT
AAPT is the leading organization for physics educators, with more than 11,000 members worldwide. The mission is to advance the greater good through physics education. It provides members with many opportunities for professional development, communication, and student enrichment. AAPT was founded in 1930 and is headquartered in the American Center for Physics in College Park, Maryland.