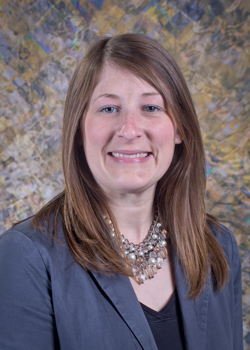 Dyan Jones to be Honored with the 2014 Homer L. Dodge Citation for Distinguished Service to AAPT
FOR IMMEDIATE RELEASE
College Park, MD, March 26, 2014—AAPT has announced that Dyan Jones will receive the association's Homer L. Dodge Citation for Distinguished Service to AAPT during the 2014 Summer Meeting in Minneapolis, MN.
Jones, Assistant Professor of Physics at Mercyhurst University, has been an active member of AAPT for nearly a decade.  She did her undergraduate work at Edinboro University of PA, which is where she attended her first AAPT regional meeting. She graduated from Edinboro with a bachelors in theoretical physics in 1999. Following graduation she started her graduate studies at Miami University, working with Dr. Perry Rice on theoretical cavity QED. Jones received her MS in Physics in 2005.
While she loved theoretical quantum physics, she preferred being in the classroom went on to doctoral studies at Kansas State University under the advisement of Dr. Dean Zollman in the physics education research group. Her four years time there was a mix of hard-core physics content and also doing research on how students learn, understand, and apply physics. She received her Ph.D. in 2009 before beginning her career in Mercyhurst's small school setting where she could continue to teach and also further pursue her research interests.
Jones has served as a member, Vice Chair, and Chair of the AAPT Committee on Professional Concerns, as a member and Chair of the Nominating Committee, and as a Committee Member of the Committee on Physics in Undergraduate Education. She serves as a member of the AAPT Membership & Benefits Advisory Committee and is active in the Western Pennsylvania Section as the Section Representative.
On her selection for this honor, Jones commented, "Thank you so very much for this amazing award.  I'm just so honored!"
About the Homer L. Dodge Citation for Distinguished Service to AAPT
Established in 1953 and renamed in recognition of AAPT founder Homer L. Dodge in 2012, the Homer L. Dodge Citation for Distinguished Service to AAPT is presented to members in recognition of their exceptional contributions to the association at the national, sectional, or local level.
About AAPT
AAPT is an international organization for physics educators, physicists, and industrial scientists—with members worldwide. Dedicated to enhancing the understanding and appreciation of physics through teaching, AAPT provides awards, publications, and programs that encourage teaching practical application of physics principles, support continuing professional development, and reward excellence in physics education. AAPT was founded in 1930 and is headquartered in the American Center for Physics in College Park, Maryland.
For more information: Contact Marilyn Gardner, Director of Communications, mgardner@aapt.org, (301) 209-3306, (301) 209-0845 (Fax), www.aapt.org.