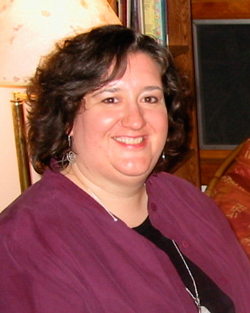 Martha Lietz to be Recognized as a 2014 Recipient of the Homer L. Dodge Citation for Distinguished Service to AAPT
FOR IMMEDIATE RELEASE
College Park, MD, March 28, 2014—AAPT has announced that Martha Lietz will receive the association's Homer L. Dodge Citation for Distinguished Service to AAPT during the 2014 Summer Meeting in Minneapolis, Minnesota.
Lietz, a National Board Certified Teacher (Adolescents and Young Adults: Science-Physics) has her M.S. in Physics from Carnegie Mellon University.  She teaches science at Niles West High School in Skokie, Illinois and serves as an AP Consultant for the College Board and Educational Testing Service.
A member of AAPT since 1989, Lietz has served on the Committee of Computers in Physics Education, the Committee on Educational Technologies, the Committee on Physics in High Schools, and as a member of the Editorial Board for The Physics Teacher. She has also served as President and Section Representative for the Chicago Section.
Lietz has presented workshops at AAPT national meetings, local section meetings, through the PTRA program and for the College Board. She has presented numerous papers and published articles in The Physics Teacher.
On her selection for this honor, Lietz commented, "It has been an honor and a pleasure to give back to an organization that has given me so much over my physics teaching career."
About the Homer L. Dodge Citation for Distinguished Service to AAPT
Established in 1953 and renamed in recognition of AAPT founder Homer L. Dodge in 2012, the Homer L. Dodge Citation for Distinguished Service to AAPT is presented to members in recognition of their exceptional contributions to the association at the national, sectional, or local level.
About AAPT
AAPT is an international organization for physics educators, physicists, and industrial scientists—with members worldwide. Dedicated to enhancing the understanding and appreciation of physics through teaching, AAPT provides awards, publications, and programs that encourage teaching practical application of physics principles, support continuing professional development, and reward excellence in physics education. AAPT was founded in 1930 and is headquartered in the American Center for Physics in College Park, Maryland.
For more information: Contact Marilyn Gardner, Director of Communications, mgardner@aapt.org, (301) 209-3306, (301) 209-0845 (Fax), www.aapt.org.