Summer 2011 DSC Award Drew Isola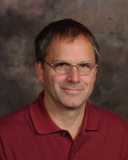 FOR IMMEDIATE RELEASE
College Park, MD—AAPT has announced that Andrew C. (Drew) Isola will be recognized with the association's Distinguished Service Citation during the Summer 2011 Meeting in Omaha, Nebraska. Isola teaches physics and math at Allegan High School in Allegan, Michigan. He has been actively involved in the PhysTEC Project as the 2005-07 Teacher-in-Residence at Western Michigan University and as part of the Project Leadership Team at the national level. He has served for many years as a consultant and presenter for science teaching professional development workshops both locally and at the state level through the Michigan Math & Science Centers Network. Drew also served as a member of the writing team for the current version of Michigan's High School Science Content Expectations.
Isola began teaching in 1982 following his graduation from Michigan Technological University where he became certified to teach both math and physics. He completed his M.S. in Science Education at Western Michigan University and started teaching at Allegan High School in Allegan, MI. He earned his PhD in 1999. Isola has experience teaching both mathematics and science from AP Calculus and AP Physics to middle school level courses for honors, grade-level, and below grade-level students. 
Regarding his selection for this honor Isola said, "I was very surprised and honored. When I look back over previous recipients I see that I am in very special company."
Isola joined AAPT in 2005. He has been a member of the Physics Education Research Topical Group since joining the organization and is a former member of the Committee on Teacher Preparation and Past President of the Michigan AAPT Section as well as the Program Chair for a number of their section meetings. He is actively serving as the only high school teacher on the National Task Force on Teacher Education in Physics.
About the Distinguished Service Citation
Established in 1953, Distinguished Service Citations are presented to AAPT members in recognition of their exceptional contributions to AAPT at the national or local level.
About AAPT
AAPT is an international organization for physics educators, physicists, and industrial scientists—with more than 10,000 members worldwide. Dedicated to enhancing the understanding and appreciation of physics through teaching, AAPT provides awards, publications, and programs that encourage teaching practical application of physics principles, support continuing professional development, and reward excellence in physics education. AAPT was founded in 1930 and is headquartered in the American Center for Physics in College Park, Maryland.
For more information: Contact Marilyn Gardner, Director of Communications, mgardner@aapt.org, (301) 209-3306, (301) 209-0845 (Fax), www.aapt.org.