Steven Turley Recognized for Distinguished Service by AAPT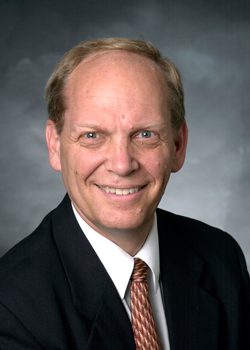 FOR IMMEDIATE RELEASE
College Park, MD—AAPT has announced the R. Steven Turley will be recognized with the association's Distinguished Service Citation during the Summer 2011 Meeting in Omaha, Nebraska.  He is a Professor in the Department of Physics and Astronomy at Brigham Young University where he was Physics Department chair from 2000-2003 and Associate Dean of Undergraduate Education from 2003-2008.  Turley earned his BS Degree from BYU and his Ph.D. at Massachusetts Institute of Technology.  Before joining the BYU Physics Department in 1995 he worked as Senior Research Staff Physicist at Hughes Aircraft Company Research Labs.

A member of AAPT since 1997, Turley also served as President of the Utah Academy of Sciences, Arts and Letters, 2007-2009.  He currently serves as Associate Affiliate Director, Rocky Mountain Space Grant Consortium and as Director, NSF-sponsored Research Experiences for Undergraduates in Physics.

Turley is an active member of the Idaho/Utah Section of AAPT.  He served on the AAPT Committee on Physics in Undergraduate Education 2003-06, the Committee on Graduate Education in Physics 2007-09 and on the AAPT Nominating Committee 2008-10.

About the Distinguished Service Citation
Established in 1953, Distinguished Service Citations are presented to AAPT members in recognition of their exceptional contributions to AAPT at the national, sectional or local level. A few individuals may be recognized at each Summer and each Winter Meeting with an Award Certificate and a copy of the citation. Self-nomination is not appropriate for this award.

About AAPT
AAPT is an international organization for physics educators, physicists, and industrial scientists—with more than 10,000 members worldwide. Dedicated to enhancing the understanding and appreciation of physics through teaching, AAPT provides awards, publications, and programs that encourage teaching practical application of physics principles, support continuing professional development, and reward excellence in physics education. AAPT was founded in 1930 and is headquartered in the American Center for Physics in College Park, Maryland.

For more information: Contact Marilyn Gardner, Director of Communications, mgardner@aapt.org, (301) 209-3306, (301) 209-0845 (Fax), www.aapt.org.