2017 Homer L. Dodge Citation for Distinguished Service to AAPT to be Awarded to Toni Sauncy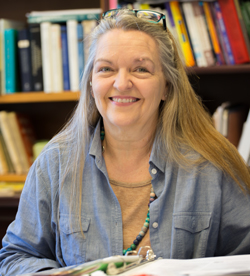 Photo credit: Terry Price
FOR IMMEDIATE RELEASE 
College Park, MD, April 3, 2017—AAPT has announced that Toni Sauncy will receive the association's Homer L. Dodge Citation for Distinguished Service to AAPT, during the 2017 Summer Meeting in Cincinnati, Ohio. Sauncy is Associate Professor and Department Chair at Texas Lutheran University in Seguin, Texas.
When notified of this award, Sauncy said, "I was just thinking of how many people I know in AAPT who deserve recognition for all the great things they do on behalf of physics and especially physics students. It is very humbling to think that someone else might have been thinking the same thing about me. Anything I have done along this physics journey has been shaped and made better by relationships with my colleagues and friends in AAPT."
Sauncy earned her B.S. in Mathematics (magna cum laude) at Texas Tech University, her M.S. in Physics at Texas Tech University and her Ph.D. in Applied Physics at Texas Tech University, Lubbock, Texas.
An active member of AAPT since 1997, Sauncy has served on the AAPT Programs Committee (2013-14), the Lotze Scholarship Committee (2014-16), and the Committee on Physics in Undergraduate Education (2015-18). She has been an active Texas Section AAPT member for her entire professional career, serving through the four year presidential chain. She has also served as the four-year college representative to the Executive Council of TS AAPT and as a co-host for two different joint spring meetings of the TS AAPT/TS APS/Zone 13 SPS.
Sauncy was the Director of the Society of Physics Students (SPS) and Sigma Pi Sigma from 2012-2014 at the American Institute of Physics (AIP). She has served as an SPS advisor for most of her professional career and recognized with the SPS Outstanding Chapter Advisor award in 2007. While at AIP, Sauncy took on the challenge of leading the NSF-Funded Career Pathways project that has resulted in important new resources for undergraduate physics departments and physics students. 
She was a professor in the Department of Physics at Angelo State University from 2000-2014, one of the schools featured as an "undergraduate program that works" in the SPIN-UP study. Sauncy has a history of proven leadership as demonstrated by her service on numerous collegiate and professional association committees, including those of APS, AAPT and SPS. This leadership has been recognized with her receipt of the Angelo State University President's Faculty Excellence in Leadership &Service Award (2010) and with an Outstanding Service Commendation from the Society of Physics Students National Council, American Center for Physics, College Park, Maryland (September 2014).
About the Homer L. Dodge Citation for Distinguished Service to AAPT
Established in 1953 and renamed in recognition of AAPT founder Homer L. Dodge in 2012, the Homer L. Dodge Citation for Distinguished Service to AAPT is presented to members in recognition of their exceptional contributions to the association at the national, sectional, or local level.
About AAPT
AAPT is an international organization for physics educators, physicists, and industrial scientists—with members worldwide. Dedicated to enhancing the understanding and appreciation of physics through teaching, AAPT provides awards, publications, and programs that encourage teaching practical application of physics principles, support continuing professional development, and reward excellence in physics education. AAPT was founded in 1930 and is headquartered in the American Center for Physics in College Park, Maryland.
For more information: Contact David Wolfe, Director of Communications, dwolfe@aapt.org, (301) 209-3322, (301) 209-0845 (Fax), www.aapt.org.