2010 Election Bios - Diane Riendeau
Diane Riendeau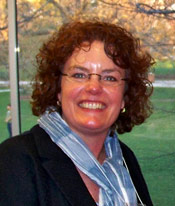 Deerfield High School, 1959 Waukegan Rd., Deerfield, IL 60015
Education
BA (Math), Northeastern Illinois University (1987)
MA (Curriculum and Instruction), Concordia University (2000)
Numerous Graduate Level Physics Hours, University of Virginia, Illinois State University, Aurora University
Teaching Experience
2005-Present: Deerfield High School (Physics, Physics Survey, Chem-Phys, Fr. Phys, AP Physics B)
1991-2004: Barrington High School (Physics, Honors Physics, AP Physics B)
1988-1991: Libertyville High School (Physics)
1987-1988: Barrington Middle School, (Math, Computers)
Memberships
AAPT, AAPT Chicago Section, AAPT Illinois Section, Nationals Science Teacher Association, Illinois Science Teacher Association, Physics Northwest
Honors
Innovative High School Teaching Grant, 1992, Amer Assn of Physics Teachers
Presidential Award for Excellence in Math and Science Teaching, 2008/2010, Illinois State Finalist.
AAAS Leadership in Science Education for High School Teachers, 2008
ISAAPT Outstanding High School Physics Teacher, 2009
AAPT Excellence in Pre-College Teaching Award, 2010
AAPT Activities
High School Committee (2004-2007,Co-wrote the "Physics First Pamphlet " ),  Pre-High School Committee (2008 – 2011, chair 201-2011), Lead Judge for High School Teaching Grant (2005-2006), Editorial Board for The Physics Teacher ( 2009-present),  Paper Sort Volunteer (2009), Column editor "YouTube Physics" for The Physics Teacher (2009-present)
Other Activities
Zambia Teacher Team member 8/2008, Initiator & leader of Internet Teacher Teams to continue mentoring Zambian teachers, Mwganza:  Provide lesson plans and resources for teachers in Tanzania
Editing
Edited "Hecht Physics" 1993

Edited new edition of Conceptual Physics X 2004-2005

Edited/contributed problems to Problem Workbook to accompany Con. Physics X

Edited Conceptual Physics IV 2006-2007
Commentary
I am honored to be a candidate for the position of High School Representative to the AAPT Executive Board, especially when I consider the high caliber of members of the board.  I hope to use my years of experience as a high school teacher and longtime membership in AAPT to bring the concerns unique to high school teaching to the attention of the Board. Your support and input will be vital to ensure that high school teachers are well represented during board discussions and I look forward to serving you in this capacity.
Currently the AAPT is facing the key issues of increasing membership and remaining fiscally sound. We need to develop more productive methods to attract new teachers to our organization. Those of us who are long-time members understand the benefit of membership and attending meetings. We need to find new and compelling ways to market the benefits of membership to those unfamiliar with what our organization has to offer. Current national economic conditions make sound fiscal practices even more important.
In addition, I believe the AAPT should continue to develop great resources for teachers at all levels and should be the leading source of outstanding pedagogical materials for physics teaching.
I hope to have the opportunity to serve you as your High School Representative to the Executive Board.  If elected, I will be asking for your assistance to achieve the best outcome for the organization.