Physics Master Teacher Leader Taskforce Meet for a Summit Gathering at the AAPT
FOR IMMEDIATE RELEASE
Contact: Rebecca E. Vieyra
E-mail:rvieyra@aapt.org
Phone: 301-209-3309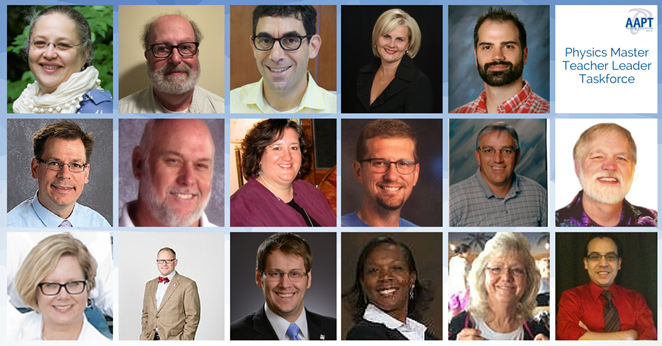 COLLEGE PARK, MD, December 1, 2016 — This weekend, a total of sixteen physics educators will meet at the American Association of Physics Teachers (AAPT).  Selected by a committee that include representatives from the AAPT, the American Modeling Teachers Association, and the Physics Teacher Education Coalition, these teachers were named AAPT Physics Master Teacher Leaders. This group includes teachers from around the nation, and includes active elementary and secondary teachers of physics, pre-service teacher educators, and school administrators.
This taskforce is meant to be a response to the growing national need for teacher leadership at the K-12 level, as clearly identified by the President's Council of Advisors on Science and Technology in their 2010 Prepare and Inspire report. When educators are so frequently challenged by new initiatives, changing standards, and a diversifying student population, it is important that educators feel fully able to advocate for themselves and their students - along with their network of colleagues - at the classroom, school, district, state, and national level. This taskforce has been looking at ways that the AAPT can support this elevation of the teaching profession through ongoing professional development and leadership programs.
Collectively, these physics master teacher leaders have been working with AAPT HQ to prepare a report to be presented to the AAPT Board of Directors that details a new set of aspirational and coherent professional development and leadership models for K-12 physics education, with an emphasis on engaging teachers as advocates for change. Their strategic planning will provide guidance to the AAPT as it endeavors to recruit, prepare, and retain excellent science educators in the U.S. This work will be based on the existing collaborative efforts of the AAPT with PTRA, AMTA, and PhysTEC supported by a 100Kin10 Microchip Grant.
From July through November 2016, these educators met virtually to consider physics teacher leadership across the spectrum, building on prior efforts such as the Teacher Leadership Competencies, the Teacher Leader Model Standards and STEM Teacher Leadership resources developed by the U.S. Department of Education. At the weekend summit gathering, they will share insights on their own personal leadership journeys and craft proposed models for professional development and leadership that can be pursued by the AAPT.
The taskforce members have demonstrated significant teacher leadership in their careers and comprise a diverse set of personal and professional backgrounds from around the nation:
Katya Denisova (Maryland, In-Service Teacher PD)
Kelli Gamez-Warble (Arizona, Pre-Service Teacher Prep)
Zhanna Glazenburg (New York, Middle/High School)
Steve Henning (Massachussets, High School)
Bradford Hill (Oregon, High School)
Scot Hovan (Minnesota, High School)
Martha Lietz (Illinois, High School)
Mike Mangiaracina (Washington, DC, Kindergarten/Elementary)
Duane Merrell (Utah, Pre-Service Teacher Prep)
Jeff Milbourne (California, High School)
Don Pata (Michigan, High School)
George Louis Ramirez (Texas, High School)
Bill Reitz (Ohio, High School)
Rex Rice (Missouri, High School)
Ann Robinson (Georgia, High School)
Florentia Spires (Virginia, Kindergarten/Elementary/Middle School)
Josh Underwood (Kentucky, High School)
In addition, 13 teachers were selected to serve on a Teacher Advisory group, to provide vital feedback to the taskforce as they prepare their report: Patti Ego, John (Trey) Smith, Leah DeWeez, Kelly O'Shea, Alma Robinson, Jeff Steele, Kenric Davies, Michael Strange, Alice Flarend, Larry Cook, Zeke Kossover, Dan Crowe, and Fran Poodry.
The Physics Master Teacher Leader Taskforce is supported by a Leadership Advisory group, including AAPT Board Members Karen Jo Matsler, Jan Mader, and Elaine Gwinn, in addition to Pat Callahan (PTRA), Colleen Megowan (AMTA), and Jon Anderson (PhysTEC).