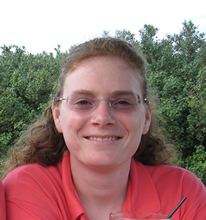 Spotlight Archive
Member Spotlight
Laura McCullough
University of Wisconsin-Stout, Menomonie, WI

I joined AAPT in 1996 as a young graduate student in Physics Education Research. My advisor and supervisor made it clear that presenting at AAPT would be helpful both for professional development and for research. They were right, of course!
AAPT has been my primary professional organization for twenty years, and the benefits I have received are both wide and deep. I am always excited to see a new issue of The Physics Teacher arrive in the mail, and having access to the archives of TPT and AJP has been invaluable in my research. Being able to have the resources to find information on whatever bit of physics education knowledge I'm interested in is good not just for me, but for the colleagues with whom I share information. Since service to my community is important to me, AAPT allows me to scratch that itch by participating in committees and groups that help shape the direction of the organization and physics education. I also love the community of scholars and friends that I have developed by attending the national meetings. In particular, many of the cadre of PER graduate students who came through with me between 1998 and 2002 have become lifelong friends and close colleagues.
I have wanted to be a physics professor since I was 15 years old. Now that I am a physics professor, my goal is to be a damn good one. I want students to walk out of my class knowing that physics is useful, fun, and something they individually can succeed at. By providing students with that grounding, I am sending them out into the world with a broader worldview, a better foundation for their careers, and (hopefully) a mindset that helps reduce the stereotype that physics is hard and only for smart people. I would love it if every high school student couldn't wait to take physics, and college students no longer put off taking their required courses but instead tried to get into it early.
Our physics department posts the AAPT High School Physics Photo Contest posters outside our office, and they attract a lot of attention from everyone: students, faculty in other departments, even the custodians. I love stepping into the hallway to see someone mesmerized by the pictures and explanations. It's a daily reminder of the good things AAPT does and a personal reminder to me that anything I can do to help get every person interested in physics is a worthwhile venture.