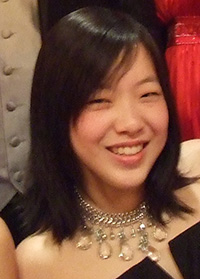 Lucy Chen
Ames, IA
Ames High School
Grade:
Junior
Hobbies
I enjoy reading a variety of books, listening to and discovering new music, playing piano, doodling, following national and international current issues, and learning about the Chinese language and culture.
Clubs
Students Helping to Eliminate Poverty and Hunger (SHEPH), Quiz Bowl, Science Bowl, the WEB (school newspaper), Scratch Pad editorial board member (a student publication of student art and literature)
Experience
MATHCOUNTS state champion in 2006 and 2007, 16th and 25th at Nationals those two years respectively; two perfect 25's on the AMC 8 in 2005 and 2006; AMC 10B state winner (2006-2009); USAMO qualifier (2007, 2008, 2010); ARML invitee (2006-present); Mandelbrot contest Central/Mountain region highest scorer (2008-09); Drake Physics Prize second place in 2009 and winner in 2010; U.S. Physics Team semifinalist in 2009; USABO semifinalist (2008) and Finals invitee (2010); 2009 Iowa Letters About Literature Level III third place; AP National Scholar (2009); Siemens Awards for Advanced Placement state winner (2009)
Bio
Somehow, I've grown up doing math competitions (starting with some kind of "Math Olympiad" in fourth grade). So when I got to high school and took my first "real" science classes (AP Bio and Physics B freshman year), I figured I might try my hand at a few science competitions. That year, I was a USABO semifinalist and placed 12th in the Drake Physics Contest, both pleasant surprises, but I didn't dare take USAPhO until the next year, after I had finished calculus and learned some of the calculus-based physics that I knew was on the USAPhO exams.
To me, mathematics and physics are fascinating because of their elegance and practicality. Interestingly enough, for most of my middle school years, I absolutely hated math and doing math problems, at one point even swearing to myself that I would never be a math major. But as I've matured more and learned more about the different fields of math and their applications, I've come to appreciate the elegance and versatility of mathematics. In the end, most sciences are, in part, grounded in math, and physics is no exception. I like physics because it's really precise and explains a host of real world phenomena.
I'm also fascinated with the way people think and behave, and enjoy studying history and psychology.
I care a lot about the world we live in and am really passionate about helping to improve the lives of the millions in need. Dr. Paul Farmer, the subject of Tracy Kidder's novel, Mountains Beyond Mountains, is a personal role model, because he has a huge heart for helping the poor, and I admire his dedication to his philosophy that "the only real nation is humanity" and his willingness to make personal sacrifices to alleviate the sufferings of others. I can only hope to be as great a person as he.
For making it this far, I need to thank my parents and my physics teacher, Mr. Mike Lazere. Without their help and support, I assuredly wouldn't be where I am now.
The prospect of spending a week and a half with the U.S. Physics Team is at once daunting and exciting. I'm honored to be a part of the team and look forward to meeting my fellow teammates. I hope we can all become good friends!
« back to the team
Disclaimer: Information in Physics Team profiles is provided by the Team members and is in no way a reflection of AAPT's opinions or views.