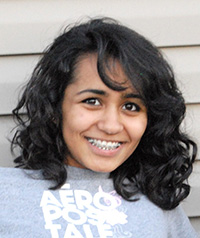 Mihika Prabhu
West Lafayette, IN
West Lafayette Jr/Sr HS
Grade:
Junior
Hobbies
Tennis, photography, art, French, swimming, and volunteer work at Red Cross
Experience
USAMO 2008, USNCO 2008, USAPhO Semifinalist 2009, AIME 2007-2010
Bio
I was born in the small university town of West Lafayette, Indiana and have lived there all my life, except for a year spent in Cambridge, Massachusetts. As a child I was what some might call a chronic daydreamer and I was certain I was going to become an artist when I grew up. Between taekwondo classes, swimming, and watering the poison ivy plant under my deck, I never imagined I would become involved in math and science.
My interest in the sciences started with various middle school math competitions. I enjoyed solving visual problems with real-world applications and Alice, Bob, and Chandra's countless situations never seemed to bore me. In my freshman year, however, acting on rumors that there was more to life than contest math I did what anyone in my position would have done - I got into a research project in stem cell biology. So, while taking college courses in multivariate calculus and linear algebra I have been working in a lab at Purdue trying to develop a new method for culturing neural stem cells. Parents who think raising children is hard should try raising neural stem cells in culture.
My exposure to physics began with a physics course I took in my sophomore year and I loved it. It was rigorous and it called for intuitive thinking. I soon realized, however, that my passion for physics far exceeded my capability in it and I have since worked to narrow the gap. I am excited to attend the camp this year and look forward to meeting all of you!
« back to the team
Disclaimer: Information in Physics Team profiles is provided by the Team members and is in no way a reflection of AAPT's opinions or views.