Info
Team Facts & News
The Olympiad is a nine-day international competition among pre-university students from more than 60 nations. — AAPT.ORG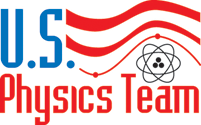 Below is a list of the individuals who are invited to sit the USAPhO examination, which will occur March 16 to March 22, 2015.
In order to participate in the USAPhO exam, you must complete the survey https://www.surveymonkey.com/s/YMBPP7F
All information for all semifinalists must be submitted by March 5.  Failure to submit complete information by that time will result in your USAPhO exam not being marked, and removal from the list of semifinalists.
All members of the US team must have a valid US Passport with an expiration date after Feb 1, 2016.  You will need to provide a scan of your passport if you receive an offer to be on the US Team (expect the offer to be in mid to late April), or the offer will be rescinded. 
US team training will be 18 May to 27 May, with arrival on 17 May and departure on 28 May.  Participation in the US team requires attendance for the full training camp; no late arrivals, early departures, or time away from the training camp for other events.
Students invited to take the USAPhO (Alphabetical by Teacher):
| | | |
| --- | --- | --- |
| STUDENT: HSIEH, CHENGAU A | TEACHER: Lance Aberle | SCHOOL: Piedmont Hills High School, San Jose, CA |
| STUDENT: KE, YICHEN | TEACHER: Lance Aberle | SCHOOL: Piedmont Hills High School, San Jose, CA |
| STUDENT: BEASLEY, NICHOLAS | TEACHER: Jamal Ali | SCHOOL: Stuyvesant High School, New York, NY |
| STUDENT: JUSUF, JAMES M | TEACHER: Jamal Ali | SCHOOL: Stuyvesant High School, New York, NY |
| STUDENT: KIM, JONG IN | TEACHER: Jamal Ali | SCHOOL: Stuyvesant High School, New York, NY |
| STUDENT: Liu, Tongtian | TEACHER: Brad Allen | SCHOOL: Brighton High School, Rochester, NY |
| STUDENT: Narayanan, Shyam S | TEACHER: Michael Alsin | SCHOOL: Blue Valley West High School, Overland Park, KS |
| STUDENT: Mangalick, Varun R | TEACHER: Donna Andren | SCHOOL: Mounds View High School, Arden Hills, MN |
| STUDENT: Kemp, Eshan R | TEACHER: Casey Appel | SCHOOL: Newport High School, Issaquah, WA |
| STUDENT: Yu, Sean S. | TEACHER: Casey Appel | SCHOOL: Newport High School, Issaquah, WA |
| STUDENT: REILLY, NOLAN M | TEACHER: Catherine Asaro | SCHOOL: Chesapeake Math Program, Columbia, MD |
| STUDENT: YANG, JUSTINA R | TEACHER: Catherine Asaro | SCHOOL: Chesapeake Math Program, Columbia, MD |
| STUDENT: EDMONDSON, TEDDY | TEACHER: Jay Atman | SCHOOL: Martin High School, Arlington, TX |
| STUDENT: Revilla, Patrick A | TEACHER: James Barnes | SCHOOL: Carnegie Vanguard HS, Houston, TX |
| STUDENT: JI, CHRISTINA X | TEACHER: Bree Barnett Dreyfuss | SCHOOL: Amador Valley High School, Pleasanton, CA |
| STUDENT: KIM, BRIAN | TEACHER: Bree Barnett Dreyfuss | SCHOOL: Amador Valley High School, Pleasanton, CA |
| STUDENT: BENABOU, JOSHUA N | TEACHER: Donna Benabou | SCHOOL: Home School, Plandome, NY |
| STUDENT: CHEN, LINHAN | TEACHER: David Bendtschneider | SCHOOL: Seven Lakes High School, Katy, TX |
| STUDENT: KAO, ROBERT Q | TEACHER: Gary Bent | SCHOOL: E O Smith High School, Storrs, CT |
| STUDENT: CHANG, CHRISTOPHER W | TEACHER: James Birdsong | SCHOOL: Monta Vista High School, San Jose, CA |
| STUDENT: CUNNINGHAM, ROBERT J | TEACHER: James Birdsong | SCHOOL: Monta Vista High School, San Jose, CA |
| STUDENT: DATAR, ADHIRAJ | TEACHER: James Birdsong | SCHOOL: Monta Vista High School, San Jose, CA |
| STUDENT: DING, MICHAEL H | TEACHER: James Birdsong | SCHOOL: Monta Vista High School, San Jose, CA |
| STUDENT: GUJJULA, PREETHAM REDDY | TEACHER: James Birdsong | SCHOOL: Monta Vista High School, San Jose, CA |
| STUDENT: GUPTA, MEGHAL | TEACHER: James Birdsong | SCHOOL: Monta Vista High School, San Jose, CA |
| STUDENT: HE, ANDREW L | TEACHER: James Birdsong | SCHOOL: Monta Vista High School, San Jose, CA |
| STUDENT: KIM, CHUNG MIN | TEACHER: James Birdsong | SCHOOL: Monta Vista High School, San Jose, CA |
| STUDENT: LI, MINGYUAN | TEACHER: James Birdsong | SCHOOL: Monta Vista High School, San Jose, CA |
| STUDENT: LUO, MICH EL Z | TEACHER: James Birdsong | SCHOOL: Monta Vista High School, San Jose, CA |
| STUDENT: PAN, CHRISTINA A | TEACHER: James Birdsong | SCHOOL: Monta Vista High School, San Jose, CA |
| STUDENT: SUN, VICTOR J | TEACHER: James Birdsong | SCHOOL: Monta Vista High School, San Jose, CA |
| STUDENT: TAN, ERIC S | TEACHER: James Birdsong | SCHOOL: Monta Vista High School, San Jose, CA |
| STUDENT: YANG, JUSTIN W | TEACHER: James Birdsong | SCHOOL: Monta Vista High School, San Jose, CA |
| STUDENT: YANG, LARRY W | TEACHER: James Birdsong | SCHOOL: Monta Vista High School, San Jose, CA |
| STUDENT: YANG, BENJAMIN H | TEACHER: James Birdsong | SCHOOL: Monta Vista High School, San Jose, CA |
| STUDENT: YEH, ANDREW | TEACHER: James Birdsong | SCHOOL: Monta Vista High School, San Jose, CA |
| STUDENT: ZHANG, WILLIAM Y | TEACHER: James Birdsong | SCHOOL: Monta Vista High School, San Jose, CA |
| STUDENT: BLAZER, JOSEPH | TEACHER: Josephine Blaha | SCHOOL: Holmdel High School, Holmdel, NJ |
| STUDENT: LI, KEVIN M | TEACHER: David Brown | SCHOOL: San Diego Math Circle @ UCSD, San Diego, CA |
| STUDENT: MAO, DAVID | TEACHER: David Brown | SCHOOL: San Diego Math Circle @ UCSD, San Diego, CA |
| STUDENT: Wexler, Jonathan I | TEACHER: John Bruss | SCHOOL: Deerfield High School, Deerfield, IL |
| STUDENT: CAI, ANGELA Y | TEACHER: Andrew Buchanan | SCHOOL: Downingtown East High School, Exton, PA |
| STUDENT: CHAKRABORTY, SOURABH | TEACHER: Danielle Bugge | SCHOOL: West Windsor - Plainsboro HS South, West Windsor, NJ |
| STUDENT: GENG, DAVID | TEACHER: Danielle Bugge | SCHOOL: West Windsor - Plainsboro HS South, West Windsor, NJ |
| STUDENT: HUANGPHYSICSFTW, YAN A | TEACHER: Danielle Bugge | SCHOOL: West Windsor - Plainsboro HS South, West Windsor, NJ |
| STUDENT: LI, KEVIN Q | TEACHER: Danielle Bugge | SCHOOL: West Windsor - Plainsboro HS South, West Windsor, NJ |
| STUDENT: MAZUMDAR, ISHAN | TEACHER: Danielle Bugge | SCHOOL: West Windsor - Plainsboro HS South, West Windsor, NJ |
| STUDENT: SUH, JUNGJOO | TEACHER: Danielle Bugge | SCHOOL: West Windsor - Plainsboro HS South, West Windsor, NJ |
| STUDENT: XIA, CHONG | TEACHER: Danielle Bugge | SCHOOL: West Windsor - Plainsboro HS South, West Windsor, NJ |
| STUDENT: DUFFY, SEAN | TEACHER: Michael Bush | SCHOOL: Libertyville High School, Libertyville, IL |
| STUDENT: Boopathy, Akhilan . | TEACHER: Heather Butler | SCHOOL: Lakeside Upper School, Seattle, WA |
| STUDENT: Murin, Max | TEACHER: Heather Butler | SCHOOL: Lakeside Upper School, Seattle, WA |
| STUDENT: Yang, Kevin | TEACHER: Heather Butler | SCHOOL: Lakeside Upper School, Seattle, WA |
| STUDENT: ROBERSON, MILAN S | TEACHER: James Byrd | SCHOOL: Bayard Rustin High School, West Chester, PA |
| STUDENT: CAO, ALLEN | TEACHER: Sara Cahill | SCHOOL: Adlai Stevenson High School, Lincolnshire, IL |
| STUDENT: HWANG, JUNGHYUN | TEACHER: Sara Cahill | SCHOOL: Adlai Stevenson High School, Lincolnshire, IL |
| STUDENT: KLEM, TIMOTHY | TEACHER: Sara Cahill | SCHOOL: Adlai Stevenson High School, Lincolnshire, IL |
| STUDENT: LI, ZHENHAO | TEACHER: Sara Cahill | SCHOOL: Adlai Stevenson High School, Lincolnshire, IL |
| STUDENT: LU, JASON D | TEACHER: Sara Cahill | SCHOOL: Adlai Stevenson High School, Lincolnshire, IL |
| STUDENT: COWAL, PETER A | TEACHER: Daniel Calkins | SCHOOL: Jesuit High School, Portland, OR |
| STUDENT: SOIFFER, RORY S | TEACHER: Daniel Calkins | SCHOOL: Jesuit High School, Portland, OR |
| STUDENT: HUANG, BRICE | TEACHER: Regina Celin | SCHOOL: West Windsor - Plainsboro High School N, Plainsboro, NJ |
| STUDENT: SHAO, CHRISTOPHER | TEACHER: Regina Celin | SCHOOL: West Windsor - Plainsboro High School N, Plainsboro, NJ |
| STUDENT: ZHANG, JEREMY | TEACHER: Regina Celin | SCHOOL: West Windsor - Plainsboro High School N, Plainsboro, NJ |
| STUDENT: Johnson, Jedediah W | TEACHER: Tiffany Coke | SCHOOL: Punahou School, Honolulu, HI |
| STUDENT: Kunimune, Justin H | TEACHER: Tiffany Coke | SCHOOL: Punahou School, Honolulu, HI |
| STUDENT: Takeshita, Steven H | TEACHER: Tiffany Coke | SCHOOL: Punahou School, Honolulu, HI |
| STUDENT: PATEL, OHM J | TEACHER: Maridee Cornell | SCHOOL: White Station High School, Memphis, TN |
| STUDENT: SINGHAL, KARAN | TEACHER: Brendan Curran | SCHOOL: Herricks High School, New Hyde Park, NY |
| STUDENT: BAO, IRENE | TEACHER: Ronald Curtin | SCHOOL: Charlotte Country Day School, Charlotte, NC |
| STUDENT: CHIDAMBARAM, BHAIRAV P | TEACHER: John Danssaert | SCHOOL: Canyon Crest Academy, San Diego, CA |
| STUDENT: NICHANI, ESHAAN | TEACHER: John Danssaert | SCHOOL: Canyon Crest Academy, San Diego, CA |
| STUDENT: PAN, ZILU | TEACHER: John Danssaert | SCHOOL: Canyon Crest Academy, San Diego, CA |
| STUDENT: CHOW, LANDON Y | TEACHER: Kirk Davis | SCHOOL: Saratoga High School, Saratoga, CA |
| STUDENT: LI, ALEXANDER | TEACHER: Kirk Davis | SCHOOL: Saratoga High School, Saratoga, CA |
| STUDENT: LIANG, CELINE K | TEACHER: Kirk Davis | SCHOOL: Saratoga High School, Saratoga, CA |
| STUDENT: NEY, BRENDAN S | TEACHER: Kirk Davis | SCHOOL: Saratoga High School, Saratoga, CA |
| STUDENT: SHI, SEAN | TEACHER: Kirk Davis | SCHOOL: Saratoga High School, Saratoga, CA |
| STUDENT: ZHANG, KRISTINE A | TEACHER: Kirk Davis | SCHOOL: Saratoga High School, Saratoga, CA |
| STUDENT: BALASUBRAMANIAN, SHANKAR N | TEACHER: John Dell | SCHOOL: Thomas Jefferson HS for Science and Tech, Alexandria, VA |
| STUDENT: CHENG, ALLEN Y | TEACHER: John Dell | SCHOOL: Thomas Jefferson HS for Science and Tech, Alexandria, VA |
| STUDENT: DEMPSEY, STEPHEN R | TEACHER: John Dell | SCHOOL: Thomas Jefferson HS for Science and Tech, Alexandria, VA |
| STUDENT: GUPTA, AMIT K | TEACHER: John Dell | SCHOOL: Thomas Jefferson HS for Science and Tech, Alexandria, VA |
| STUDENT: HSIANG, SAMUEL C | TEACHER: John Dell | SCHOOL: Thomas Jefferson HS for Science and Tech, Alexandria, VA |
| STUDENT: MORRIS, CHRISTOPHER C | TEACHER: John Dell | SCHOOL: Thomas Jefferson HS for Science and Tech, Alexandria, VA |
| STUDENT: SHANKER, NIRMAAN | TEACHER: John Dell | SCHOOL: Thomas Jefferson HS for Science and Tech, Alexandria, VA |
| STUDENT: WANG, CHARLES | TEACHER: John Dell | SCHOOL: Thomas Jefferson HS for Science and Tech, Alexandria, VA |
| STUDENT: HSU, CLAIRE C | TEACHER: Remy Demont | SCHOOL: Fairmont Preparatory Academy, Anaheim, CA |
| STUDENT: YANG, XINTA | TEACHER: Remy Demont | SCHOOL: Fairmont Preparatory Academy, Anaheim, CA |
| STUDENT: HUANG, JEFFREY | TEACHER: Robert DeSipio | SCHOOL: Conestoga High School, Berwyn, PA |
| STUDENT: CHEN, BENJAMIN B | TEACHER: Joan Dutter | SCHOOL: Walton High School, Marietta, GA |
| STUDENT: DUA, SIREJ | TEACHER: Mauricio Eguez | SCHOOL: Arcadia High School, Arcadia, CA |
| STUDENT: LI, DING | TEACHER: Mauricio Eguez | SCHOOL: Arcadia High School, Arcadia, CA |
| STUDENT: LI, TUNG | TEACHER: Mauricio Eguez | SCHOOL: Arcadia High School, Arcadia, CA |
| STUDENT: SUN, HENRY K | TEACHER: Mauricio Eguez | SCHOOL: Arcadia High School, Arcadia, CA |
| STUDENT: HUANG, KEVIN | TEACHER: Stan Eisenstein | SCHOOL: Centennial High School, Ellicott City, MD |
| STUDENT: Bogorad, Zachary A | TEACHER: Ronald Fabo | SCHOOL: Solon High School, Solon, OH |
| STUDENT: Emge, Danny J | TEACHER: Kevin Farrell | SCHOOL: Naperville North High School, Naperville, IL |
| STUDENT: Dhungana, Asim | TEACHER: Kimi Fellers | SCHOOL: Carmel High School, Carmel, IN |
| STUDENT: JIANG, JIAZHI | TEACHER: Jennifer Filippi | SCHOOL: Folsom High School, Folsom, CA |
| STUDENT: VELINGKER, YOGESHWAR A | TEACHER: Sean Flueso | SCHOOL: Parkland School District, Allentown, PA |
| STUDENT: MA, LIREN | TEACHER: Philip Frankel | SCHOOL: Hunter College High School, New York, NY |
| STUDENT: Lipman, Matthew D | TEACHER: Gary Garber | SCHOOL: Boston Univ Academy, Melrose, MA |
| STUDENT: Hu, Emily D | TEACHER: Haley Gardner | SCHOOL: Texas Academy Of Math And Science, Denton, TX |
| STUDENT: CHINTA, RUPESH | TEACHER: Amrish Garg | SCHOOL: South Brunswick High School, Monmouth Junction, NJ |
| STUDENT: WU, EVAN J | TEACHER: Amrish Garg | SCHOOL: South Brunswick High School, Monmouth Junction, NJ |
| STUDENT: CHADRAA, DALAI B | TEACHER: Jeff Gehring | SCHOOL: Redmond High School, Redmond, WA |
| STUDENT: Kimball, Galen D | TEACHER: Peter Gelpke | SCHOOL: Fairfield High School, Fairfield, CA |
| STUDENT: Devico, Benjamin T | TEACHER: Sophia Gershman | SCHOOL: Watchung Hills Regional High School, Warren, NJ |
| STUDENT: Mathison, Katherine V | TEACHER: Sophia Gershman | SCHOOL: Watchung Hills Regional High School, Warren, NJ |
| STUDENT: CHEN, ANDREW L | TEACHER: Peter Geschke | SCHOOL: Mission San Jose High School, Fremont, CA |
| STUDENT: CHOI, TOMAS D | TEACHER: Peter Geschke | SCHOOL: Mission San Jose High School, Fremont, CA |
| STUDENT: DAI, ALEXANDER M | TEACHER: Peter Geschke | SCHOOL: Mission San Jose High School, Fremont, CA |
| STUDENT: GU, STANLEY | TEACHER: Peter Geschke | SCHOOL: Mission San Jose High School, Fremont, CA |
| STUDENT: LI, JAMES | TEACHER: Peter Geschke | SCHOOL: Mission San Jose High School, Fremont, CA |
| STUDENT: LIU, KEVIN | TEACHER: Peter Geschke | SCHOOL: Mission San Jose High School, Fremont, CA |
| STUDENT: LU, KELVIN | TEACHER: Peter Geschke | SCHOOL: Mission San Jose High School, Fremont, CA |
| STUDENT: POPE, NATHAN H | TEACHER: Peter Geschke | SCHOOL: Mission San Jose High School, Fremont, CA |
| STUDENT: QIN, TIANCHENG | TEACHER: Peter Geschke | SCHOOL: Mission San Jose High School, Fremont, CA |
| STUDENT: TANG, ANNA X | TEACHER: Peter Geschke | SCHOOL: Mission San Jose High School, Fremont, CA |
| STUDENT: TSENG, BRIAN C | TEACHER: Peter Geschke | SCHOOL: Mission San Jose High School, Fremont, CA |
| STUDENT: WU, QINGYUE | TEACHER: Peter Geschke | SCHOOL: Mission San Jose High School, Fremont, CA |
| STUDENT: XIE, BRIAN B | TEACHER: Peter Geschke | SCHOOL: Mission San Jose High School, Fremont, CA |
| STUDENT: YANG, RYAN | TEACHER: Peter Geschke | SCHOOL: Mission San Jose High School, Fremont, CA |
| STUDENT: YU, JENNIFER J | TEACHER: Peter Geschke | SCHOOL: Mission San Jose High School, Fremont, CA |
| STUDENT: ZENG, CATHERINE | TEACHER: Peter Geschke | SCHOOL: Mission San Jose High School, Fremont, CA |
| STUDENT: ZHOU, AURICK | TEACHER: Peter Geschke | SCHOOL: Mission San Jose High School, Fremont, CA |
| STUDENT: Doman, Joshua S | TEACHER: Ken Gibson | SCHOOL: Westminster Schools, Atlanta, GA |
| STUDENT: McKeon, Connor T | TEACHER: Michael Gilmore | SCHOOL: Ridge High School, Basking Ridge, NJ |
| STUDENT: Tang, Timothy Z | TEACHER: Michael Gilmore | SCHOOL: Ridge High School, Basking Ridge, NJ |
| STUDENT: Zhang, Victor G | TEACHER: Cynthea Givens | SCHOOL: Andover High School, Andover, MA |
| STUDENT: Zhou, James . | TEACHER: Cynthea Givens | SCHOOL: Andover High School, Andover, MA |
| STUDENT: ZHANG, JASON | TEACHER: Saul Gleser | SCHOOL: Northwood High School, Irvine, CA |
| STUDENT: Chan, Clive A | TEACHER: Ryan Grams | SCHOOL: Lexington High School, Lexington, MA |
| STUDENT: Li, Henry S | TEACHER: Ryan Grams | SCHOOL: Lexington High School, Lexington, MA |
| STUDENT: Seksaria, Videh | TEACHER: Ryan Grams | SCHOOL: Lexington High School, Lexington, MA |
| STUDENT: Swaminathan, Shashank | TEACHER: Dorin Grecu | SCHOOL: Nagoya International School, Nagoya, |
| STUDENT: ZHANG, JASON | TEACHER: Rachel Hagedorn | SCHOOL: Newman Smith High School, Carrollton, TX |
| STUDENT: BROWN, ANDREW D | TEACHER: Liviu Haiducu | SCHOOL: Avon Advanced Learning Center, Avon, IN |
| STUDENT: Hobart, William T | TEACHER: Julie Haverkos | SCHOOL: Sycamore High School, Milford, OH |
| STUDENT: Heil, Samuel W. | TEACHER: Dannon Heil | SCHOOL: Home School, Joplin, MO |
| STUDENT: LYU, YIWEI | TEACHER: Ann Henann | SCHOOL: Bethlehem Catholic High School, Bethlehem, PA |
| STUDENT: CHEN, ALEXANDER | TEACHER: Mark Higgins | SCHOOL: Princeton High School, Cranbury, NJ |
| STUDENT: CHEN, JUNHONG | TEACHER: Mark Higgins | SCHOOL: Princeton High School, Cranbury, NJ |
| STUDENT: ZHAO, LEO M | TEACHER: Mark Higgins | SCHOOL: Princeton High School, Cranbury, NJ |
| STUDENT: Joel, Marina Z | TEACHER: Marsha Hobbs | SCHOOL: Jackson Preparatory School, Jackson, MS |
| STUDENT: HANNEL, BEN | TEACHER: Scott Holloway | SCHOOL: Westlake High School, Westlake Village, CA |
| STUDENT: JONES, ERIK R | TEACHER: Daniel Hosey | SCHOOL: Pittsford Sutherland High School, Pittsford, NY |
| STUDENT: MIZES, PETER H | TEACHER: Daniel Hosey | SCHOOL: Pittsford Sutherland High School, Pittsford, NY |
| STUDENT: GUO, RAYMOND C | TEACHER: Stephen Houpt | SCHOOL: St Mark's School of Texas, Dallas, TX |
| STUDENT: Rai, Rahul A | TEACHER: Mrs. Jayathee | SCHOOL: AECS Magnolia Maaruti Public School, Bangalore, India, |
| STUDENT: SUN, YUSHA Y | TEACHER: Michelle Jedlicka | SCHOOL: A & M Consolidated High School, College Station, TX |
| STUDENT: SHIM, PETER C | TEACHER: Jeffrey Jenkins | SCHOOL: The Pingry School, Basking Ridge, NJ |
| STUDENT: WANG, DANIEL A | TEACHER: Jeremy Johnson | SCHOOL: Austin Chinese Education Services, Austin, TX |
| STUDENT: Jain, Varun V | TEACHER: Rodger Johnson | SCHOOL: Monte Vista High School, Danville, CA |
| STUDENT: RADAKRISHNAN, SHANKAR | TEACHER: Wes Johnson | SCHOOL: Burlington High School, Burlington,, MA |
| STUDENT: WANG, KENNETH C | TEACHER: Stoyan Karabunarliev | SCHOOL: Clear Lake High School, Houston, TX |
| STUDENT: BI, JONATHAN | TEACHER: Raghunath Khetan | SCHOOL: ICAE, Troy, MI |
| STUDENT: HU, JASON | TEACHER: Raghunath Khetan | SCHOOL: ICAE, Troy, MI |
| STUDENT: MAHENDRAN, ANISH | TEACHER: Raghunath Khetan | SCHOOL: ICAE, Troy, MI |
| STUDENT: SONI, PRATHAM | TEACHER: Raghunath Khetan | SCHOOL: ICAE, Troy, MI |
| STUDENT: LI, HANS Z | TEACHER: Mark Kinsey | SCHOOL: William P Clements High School, Sugar Land, TX |
| STUDENT: LI, WILBUR Y | TEACHER: Mark Kinsey | SCHOOL: William P Clements High School, Sugar Land, TX |
| STUDENT: ZHANG, JEFFREY | TEACHER: Mark Kinsey | SCHOOL: William P Clements High School, Sugar Land, TX |
| STUDENT: ZHOU, FAN | TEACHER: Mark Kinsey | SCHOOL: William P Clements High School, Sugar Land, TX |
| STUDENT: ELIAS, ALEXANDER J | TEACHER: Joanne Klouda | SCHOOL: Staples High School, Westport, CT |
| STUDENT: WONG, MEGAN | TEACHER: Sandra Knotts | SCHOOL: Perkiomen Valley High School, Reading, PA |
| STUDENT: YEISER, AARON J | TEACHER: Sandra Knotts | SCHOOL: Perkiomen Valley High School, Reading, PA |
| STUDENT: GARG, SAHAJ | TEACHER: Mark Koenig | SCHOOL: Bridgewater Raritan HS, Bridgewater, NJ |
| STUDENT: XIE, MICHAEL E | TEACHER: Mark Koenig | SCHOOL: Bridgewater Raritan HS, Bridgewater, NJ |
| STUDENT: Chow, Kyle A | TEACHER: Boris Korsunsky | SCHOOL: Weston High School, Weston, MA |
| STUDENT: Yang, Evin Y | TEACHER: Thomas Kosic | SCHOOL: Bishop ODowd HS, Oakland, CA |
| STUDENT: LEE, KYLE G | TEACHER: Keith Koszut | SCHOOL: Munster High School, Munster, IN |
| STUDENT: JOHN, WILLIAM | TEACHER: James Kovalcin | SCHOOL: Private Physics Tutor, Kendall Park, NJ |
| STUDENT: SUN, PHILIP W | TEACHER: Mukkai Krishnamoorthy | SCHOOL: Rensselaer Polytechnic Inst, Troy, NY |
| STUDENT: WANG, WILLIAM Y | TEACHER: Mukkai Krishnamoorthy | SCHOOL: Rensselaer Polytechnic Inst, Troy, NY |
| STUDENT: Block, Adam B | TEACHER: Ryan Kruidenier | SCHOOL: Whitney M Young Magnet High School, Chicago, IL |
| STUDENT: DILIP, ROHIT K | TEACHER: Shankar Kumar | SCHOOL: Irvington High School, Fremont, CA |
| STUDENT: FAN, ANDY | TEACHER: Millard Lee | SCHOOL: Dougherty Valley High School, San Ramon, CA |
| STUDENT: FAN, WILLY | TEACHER: Millard Lee | SCHOOL: Dougherty Valley High School, San Ramon, CA |
| STUDENT: HO, JACQUELIN W | TEACHER: Millard Lee | SCHOOL: Dougherty Valley High School, San Ramon, CA |
| STUDENT: HO, HELEN W | TEACHER: Millard Lee | SCHOOL: Dougherty Valley High School, San Ramon, CA |
| STUDENT: JEON, HONGJUN | TEACHER: Millard Lee | SCHOOL: Dougherty Valley High School, San Ramon, CA |
| STUDENT: PREMBABU, SARANESH | TEACHER: Millard Lee | SCHOOL: Dougherty Valley High School, San Ramon, CA |
| STUDENT: SHARMA, YASHASVI | TEACHER: Millard Lee | SCHOOL: Dougherty Valley High School, San Ramon, CA |
| STUDENT: CHEN, BENJAMIN Y | TEACHER: James Li | SCHOOL: Avid Academy for Gifted Youth, Irvine, CA |
| STUDENT: CHEN, RUOXI | TEACHER: James Li | SCHOOL: Avid Academy for Gifted Youth, Irvine, CA |
| STUDENT: KWA, THOMAS A | TEACHER: James Li | SCHOOL: Avid Academy for Gifted Youth, Irvine, CA |
| STUDENT: LI, JUSTIN J | TEACHER: James Li | SCHOOL: Avid Academy for Gifted Youth, Irvine, CA |
| STUDENT: MCCLEARY, JENNIFER A | TEACHER: James Li | SCHOOL: Avid Academy for Gifted Youth, Irvine, CA |
| STUDENT: SHAH, PARTH H | TEACHER: James Li | SCHOOL: Avid Academy for Gifted Youth, Irvine, CA |
| STUDENT: SUN, YUNYANG | TEACHER: James Li | SCHOOL: Avid Academy for Gifted Youth, Irvine, CA |
| STUDENT: ZHANG, JACK T | TEACHER: James Li | SCHOOL: Avid Academy for Gifted Youth, Irvine, CA |
| STUDENT: NGUYEN, REYD K | TEACHER: Frank Liao | SCHOOL: Del Norte High School, San Diego, CA |
| STUDENT: Kazi, Sujay S | TEACHER: Daniel Licht | SCHOOL: American High School, Fremont, CA |
| STUDENT: BAO, MIKE | TEACHER: James Lin | SCHOOL: Cambridge Educational Institute, Chino Hills, CA |
| STUDENT: WANG, MICHAEL S | TEACHER: Fei Liu | SCHOOL: Gauss School of Math and Science, Bridgewater, NJ |
| STUDENT: PASUMARTY, RITHVIK | TEACHER: Yong Lu | SCHOOL: Edina Center For Academic Excellence, Eden Prairie, MN |
| STUDENT: Cao, Anton | TEACHER: Scott Lubbs | SCHOOL: Evergreen Valley High School, San Jose, CA |
| STUDENT: Tian, Charlie J | TEACHER: Scott Lubbs | SCHOOL: Evergreen Valley High School, San Jose, CA |
| STUDENT: BIRGE LEE, HENRY O | TEACHER: Altair Maine | SCHOOL: North Hollywood High School, North Hollywood, CA |
| STUDENT: HSU, SAMUEL | TEACHER: Altair Maine | SCHOOL: North Hollywood High School, North Hollywood, CA |
| STUDENT: HWANG, JAEYEONG | TEACHER: Altair Maine | SCHOOL: North Hollywood High School, North Hollywood, CA |
| STUDENT: KIM, JAE JOON | TEACHER: Altair Maine | SCHOOL: North Hollywood High School, North Hollywood, CA |
| STUDENT: KOYAMA, SEAN | TEACHER: Altair Maine | SCHOOL: North Hollywood High School, North Hollywood, CA |
| STUDENT: LUNG, JEFFREY A | TEACHER: Altair Maine | SCHOOL: North Hollywood High School, North Hollywood, CA |
| STUDENT: PATANKAR, VEDANG D | TEACHER: Altair Maine | SCHOOL: North Hollywood High School, North Hollywood, CA |
| STUDENT: CAI, EMILY Y | TEACHER: David Marasco | SCHOOL: Foothill College, Los Altos, CA |
| STUDENT: GUO, DANIEL | TEACHER: David Marasco | SCHOOL: Foothill College, Los Altos, CA |
| STUDENT: HUANG, JASON | TEACHER: David Marasco | SCHOOL: Foothill College, Los Altos, CA |
| STUDENT: LIEN, CHARLES J | TEACHER: David Marasco | SCHOOL: Foothill College, Los Altos, CA |
| STUDENT: SAMINENI, ANEESH V | TEACHER: David Marasco | SCHOOL: Foothill College, Los Altos, CA |
| STUDENT: SHI, KYE W | TEACHER: David Marasco | SCHOOL: Foothill College, Los Altos, CA |
| STUDENT: SONG, WILLIAM | TEACHER: David Marasco | SCHOOL: Foothill College, Los Altos, CA |
| STUDENT: DOHMANN, JEREMY | TEACHER: James Marina | SCHOOL: Suffern High School, Suffern, NY |
| STUDENT: GUREV, JACOB E | TEACHER: Scott Martinez | SCHOOL: Mira Loma High School, Sacramento, CA |
| STUDENT: SHEN, DANIEL W | TEACHER: Scott Martinez | SCHOOL: Mira Loma High School, Sacramento, CA |
| STUDENT: CHAI, DANIEL H | TEACHER: Jennifer Martino | SCHOOL: High Technology High School, Lincroft, NJ |
| STUDENT: GUO, CYNTHIA H | TEACHER: Jennifer Martino | SCHOOL: High Technology High School, Lincroft, NJ |
| STUDENT: KODIALAM, ROHAN S | TEACHER: Jennifer Martino | SCHOOL: High Technology High School, Lincroft, NJ |
| STUDENT: LOU, TIMOTHY Z | TEACHER: Jennifer Martino | SCHOOL: High Technology High School, Lincroft, NJ |
| STUDENT: MAY, BRANDON S | TEACHER: Jennifer Martino | SCHOOL: High Technology High School, Lincroft, NJ |
| STUDENT: LEE, CHRISTOPHER S | TEACHER: Kevin Martz | SCHOOL: Richard Montgomery High School, Rockville, MD |
| STUDENT: BALAJI, SHREYAS | TEACHER: Judy Matney | SCHOOL: John Foster Dulles High School, Sugar Land, TX |
| STUDENT: BELL, BRIAN D | TEACHER: Judy Matney | SCHOOL: John Foster Dulles High School, Sugar Land, TX |
| STUDENT: GUHA, SIDDARTH N | TEACHER: Judy Matney | SCHOOL: John Foster Dulles High School, Sugar Land, TX |
| STUDENT: KILAMBI, RAHUL | TEACHER: Judy Matney | SCHOOL: John Foster Dulles High School, Sugar Land, TX |
| STUDENT: NAG, RISHIPROTIM | TEACHER: Judy Matney | SCHOOL: John Foster Dulles High School, Sugar Land, TX |
| STUDENT: NAGVEKAR, RAHUL | TEACHER: Judy Matney | SCHOOL: John Foster Dulles High School, Sugar Land, TX |
| STUDENT: AAHMAN, ADEL A | TEACHER: Nanette McCann | SCHOOL: Baton Rouge Magnet High School, Baton Rouge, LA |
| STUDENT: GU, ELVIN | TEACHER: Nanette McCann | SCHOOL: Baton Rouge Magnet High School, Baton Rouge, LA |
| STUDENT: RUNNELS, KADI H | TEACHER: Nanette McCann | SCHOOL: Baton Rouge Magnet High School, Baton Rouge, LA |
| STUDENT: AGGARWAL, SEJAL | TEACHER: Paul McClernon | SCHOOL: BASIS Scottsdale, Scottsdale, AZ |
| STUDENT: CONNELLY, GORDON B | TEACHER: Paul McClernon | SCHOOL: BASIS Scottsdale, Scottsdale, AZ |
| STUDENT: KIM, YOUNG HAN | TEACHER: Paul McClernon | SCHOOL: BASIS Scottsdale, Scottsdale, AZ |
| STUDENT: KRISHNAN, ABIJITH | TEACHER: Paul McClernon | SCHOOL: BASIS Scottsdale, Scottsdale, AZ |
| STUDENT: Morgan, Trevor C | TEACHER: Alex McKale | SCHOOL: EPGY Stanford University, Stanford, CA |
| STUDENT: Natividad, Kyler B | TEACHER: Alex McKale | SCHOOL: EPGY Stanford University, Stanford, CA |
| STUDENT: Sogo, Jeremy C | TEACHER: Alex McKale | SCHOOL: EPGY Stanford University, Stanford, CA |
| STUDENT: STANESCU, ALEXANDRU D | TEACHER: Joseph Melia | SCHOOL: Morgantown High School, Morgantown, WV |
| STUDENT: DAI, ADAM W | TEACHER: Kerry Miller | SCHOOL: Dos Pueblos High School, Santa Barbara, CA |
| STUDENT: Joo, Hyungdon | TEACHER: Matthew Milligan | SCHOOL: Farragut High School, Knoxville, TN |
| STUDENT: CHEN, KEVIN | TEACHER: Marcus Milling | SCHOOL: The Bishop's School, La Jolla, CA |
| STUDENT: JERDEE, MAXIMILIAN J | TEACHER: Chris Mitchell | SCHOOL: Ridgewood High School, Ridgewood, NJ |
| STUDENT: CHASE, ZACHARY H | TEACHER: Carlos Montero | SCHOOL: University School At NSU, Fort Lauderdale, FL |
| STUDENT: QIN, JIMMY L | TEACHER: Amber Morgan | SCHOOL: Seminole High School, Deltona, FL |
| STUDENT: RAMAN, JUSTIN J | TEACHER: Amber Morgan | SCHOOL: Seminole High School, Deltona, FL |
| STUDENT: SHARMA, SUNASH B | TEACHER: Amber Morgan | SCHOOL: Seminole High School, Deltona, FL |
| STUDENT: MEDARAMETLA, DHRUV | TEACHER: John Morrison | SCHOOL: Troy High School, Clarkston, MI |
| STUDENT: XU, JUSTIN J | TEACHER: John Morrison | SCHOOL: Troy High School, Clarkston, MI |
| STUDENT: OUYANG, RICHARD L | TEACHER: Robert Mullins | SCHOOL: Memphis Univ School, Olive Branch, MS |
| STUDENT: Mukherjee, Srijon | TEACHER: Vijayashree Naidu | SCHOOL: Amity International School, Noida, Noida, |
| STUDENT: HWANG, HELEN | TEACHER: Bettina Nau | SCHOOL: Opportunities For Learning, Ladera Ranch, CA |
| STUDENT: CHEN, RYAN C | TEACHER: David Nelson | SCHOOL: Brookwood High School, Snellville, GA |
| STUDENT: HUANG, MATTHEW Z | TEACHER: Eric Nelson | SCHOOL: The Harker School, Boulder Creek, CA |
| STUDENT: LI, LAWRENCE L | TEACHER: Eric Nelson | SCHOOL: The Harker School, Boulder Creek, CA |
| STUDENT: LIN, PATRICK | TEACHER: Eric Nelson | SCHOOL: The Harker School, Boulder Creek, CA |
| STUDENT: MA, JONATHAN Q | TEACHER: Eric Nelson | SCHOOL: The Harker School, Boulder Creek, CA |
| STUDENT: MANI, NITYA | TEACHER: Eric Nelson | SCHOOL: The Harker School, Boulder Creek, CA |
| STUDENT: MOHINDRA, ANIKA | TEACHER: Eric Nelson | SCHOOL: The Harker School, Boulder Creek, CA |
| STUDENT: SHAH, MANAN A | TEACHER: Eric Nelson | SCHOOL: The Harker School, Boulder Creek, CA |
| STUDENT: WU, PETER | TEACHER: Eric Nelson | SCHOOL: The Harker School, Boulder Creek, CA |
| STUDENT: ZHANG, ANDREW J | TEACHER: Eric Nelson | SCHOOL: The Harker School, Boulder Creek, CA |
| STUDENT: ZHAO, MICHAEL J | TEACHER: Eric Nelson | SCHOOL: The Harker School, Boulder Creek, CA |
| STUDENT: ZHU, DAVID | TEACHER: Eric Nelson | SCHOOL: The Harker School, Boulder Creek, CA |
| STUDENT: ZHU, JESSICA F | TEACHER: Eric Nelson | SCHOOL: The Harker School, Boulder Creek, CA |
| STUDENT: Geng, Daniel | TEACHER: Todd Newell | SCHOOL: Ann Arbor Huron High School, Ann Arbor, MI |
| STUDENT: Sarukkai, Vishnu | TEACHER: Michael O´Byrne | SCHOOL: Interlake HS, Seattle, WA |
| STUDENT: Sivaprasad, Abhinand S | TEACHER: Michael O´Byrne | SCHOOL: Interlake HS, Seattle, WA |
| STUDENT: HONGRU, SHI | TEACHER: Paul Paino | SCHOOL: St Anthony High School, Melville, NY |
| STUDENT: YANG, XIAOCHENG | TEACHER: Paul Paino | SCHOOL: St Anthony High School, Melville, NY |
| STUDENT: WEN, ALBERT M | TEACHER: Andrew Pantaleo | SCHOOL: Union County Magnet High School, Scotch Plains, NJ |
| STUDENT: KLUGMAN, NICHOLAS E | TEACHER: Jongkun Park | SCHOOL: Buchholz High School, Gainesville, FL |
| STUDENT: Wachspress, Jacob M | TEACHER: Timothy Paulson | SCHOOL: Pennsbury High School, Fairless Hills, PA |
| STUDENT: FIELD, HANNAH M | TEACHER: Deborah Pitula | SCHOOL: St Gabriel School, Bronx, NY |
| STUDENT: MANSOUR, OMAR B | TEACHER: Thomas Ramsey | SCHOOL: Mentor HS, Mentor, OH |
| STUDENT: CHEN, ERIC | TEACHER: Steve Ratto | SCHOOL: Aragon High School, San Mateo, CA |
| STUDENT: YIM, JUSTIN H | TEACHER: Joshua Ravenscraft | SCHOOL: Vernon Hills High School, Vernon Hills, IL |
| STUDENT: ARNOTT, ROBERT L | TEACHER: Jeffrey Rose | SCHOOL: Cypress Bay High, Weston, FL |
| STUDENT: Chang, Kevin Y | TEACHER: Debjani Roy | SCHOOL: Bellarmine Coll Prep, San Jose, CA |
| STUDENT: Jain, Shreyan | TEACHER: Debjani Roy | SCHOOL: Bellarmine Coll Prep, San Jose, CA |
| STUDENT: Tao, Sean H | TEACHER: Cris Ruffolo | SCHOOL: North Allegheny Senior High School, Wexford, PA |
| STUDENT: FRIIS, ERICK Y | TEACHER: Scott Saltman | SCHOOL: Phillips Exeter Acad, Newfields, NH |
| STUDENT: PRUEGSANUSAK, KORRAWAT | TEACHER: Scott Saltman | SCHOOL: Phillips Exeter Acad, Newfields, NH |
| STUDENT: QIAN, CHAD | TEACHER: Scott Saltman | SCHOOL: Phillips Exeter Acad, Newfields, NH |
| STUDENT: QIAO, JEFFREY | TEACHER: Scott Saltman | SCHOOL: Phillips Exeter Acad, Newfields, NH |
| STUDENT: QIN, GEYANG | TEACHER: Scott Saltman | SCHOOL: Phillips Exeter Acad, Newfields, NH |
| STUDENT: SUN, ALEC | TEACHER: Scott Saltman | SCHOOL: Phillips Exeter Acad, Newfields, NH |
| STUDENT: VALE, VINJAI | TEACHER: Scott Saltman | SCHOOL: Phillips Exeter Acad, Newfields, NH |
| STUDENT: WEI, ALEXANDER | TEACHER: Scott Saltman | SCHOOL: Phillips Exeter Acad, Newfields, NH |
| STUDENT: WEI, KUO AN A | TEACHER: Scott Saltman | SCHOOL: Phillips Exeter Acad, Newfields, NH |
| STUDENT: XI, HARRY | TEACHER: Douglas Sample | SCHOOL: Upper Dublin HS, Fort Washington, PA |
| STUDENT: Xu, Albert Y | TEACHER: Peter Saxby | SCHOOL: Tesla STEM School, Redmond, WA |
| STUDENT: BUSIS, ADAM R | TEACHER: James Schafer | SCHOOL: Montgomery Blair High School, Silver Spring, MD |
| STUDENT: CHATTOPADHYAY, SAMBUDDHA | TEACHER: James Schafer | SCHOOL: Montgomery Blair High School, Silver Spring, MD |
| STUDENT: CORRALES, THEODORE | TEACHER: James Schafer | SCHOOL: Montgomery Blair High School, Silver Spring, MD |
| STUDENT: DAS SARMA, MATTHEW | TEACHER: James Schafer | SCHOOL: Montgomery Blair High School, Silver Spring, MD |
| STUDENT: DU, JEREMY C | TEACHER: James Schafer | SCHOOL: Montgomery Blair High School, Silver Spring, MD |
| STUDENT: LIN, RAYMOND T | TEACHER: James Schafer | SCHOOL: Montgomery Blair High School, Silver Spring, MD |
| STUDENT: LIU, CYNTHIA T | TEACHER: James Schafer | SCHOOL: Montgomery Blair High School, Silver Spring, MD |
| STUDENT: LU, ERIC M | TEACHER: James Schafer | SCHOOL: Montgomery Blair High School, Silver Spring, MD |
| STUDENT: MARX KUO, JARED N | TEACHER: James Schafer | SCHOOL: Montgomery Blair High School, Silver Spring, MD |
| STUDENT: NEYMAN, ERIC M | TEACHER: James Schafer | SCHOOL: Montgomery Blair High School, Silver Spring, MD |
| STUDENT: OFFERTALER, BENDEGUZ | TEACHER: James Schafer | SCHOOL: Montgomery Blair High School, Silver Spring, MD |
| STUDENT: TEWARI, ESHAN | TEACHER: James Schafer | SCHOOL: Montgomery Blair High School, Silver Spring, MD |
| STUDENT: WINER, MICHAEL H | TEACHER: James Schafer | SCHOOL: Montgomery Blair High School, Silver Spring, MD |
| STUDENT: XU, VICTOR Z | TEACHER: James Schafer | SCHOOL: Montgomery Blair High School, Silver Spring, MD |
| STUDENT: XUE, CATHERINE S | TEACHER: James Schafer | SCHOOL: Montgomery Blair High School, Silver Spring, MD |
| STUDENT: ZHAO, DENNIS | TEACHER: James Schafer | SCHOOL: Montgomery Blair High School, Silver Spring, MD |
| STUDENT: MA, ANDREW | TEACHER: Dana Schlosser | SCHOOL: Greenwich High School, Greenwich, CT |
| STUDENT: Mu, Emily | TEACHER: Brooke Schmidt | SCHOOL: Illinois Math & Science Academy, Aurora, IL |
| STUDENT: KHOSLA, KUSH C | TEACHER: Robert Shurtz | SCHOOL: Hawken School, Gates Mills, OH |
| STUDENT: DETMER, SAMUEL | TEACHER: Matt Silvia | SCHOOL: Walter Payton Coll Prep, Chicago, IL |
| STUDENT: GUO, PATRICK N | TEACHER: Douglas Skinner | SCHOOL: Westwood High School, Austin, TX |
| STUDENT: PARULEKAR, ADVAIT | TEACHER: Douglas Skinner | SCHOOL: Westwood High School, Austin, TX |
| STUDENT: NAVID, ROY C | TEACHER: Mark Skinner | SCHOOL: Shadyside Academy, Pittsburgh, PA |
| STUDENT: GU, HAOQIN | TEACHER: Tim Smay | SCHOOL: University HS - Irvine, Irvine, CA |
| STUDENT: PARK, JONG HO | TEACHER: Tim Smay | SCHOOL: University HS - Irvine, Irvine, CA |
| STUDENT: YE, JASON Y | TEACHER: Tim Smay | SCHOOL: University HS - Irvine, Irvine, CA |
| STUDENT: YU, EVAN E | TEACHER: Tim Smay | SCHOOL: University HS - Irvine, Irvine, CA |
| STUDENT: SOEDJAK, NATHAN | TEACHER: Heroe Soedjak | SCHOOL: Soedjak Homeschool, Rogersville, MO |
| STUDENT: Church, Benjamin V. | TEACHER: Robert Stanford | SCHOOL: The Masters School, Dobbs Ferry, NY |
| STUDENT: CHANG, JOSEPH | TEACHER: Michael Stern | SCHOOL: Palo Alto High School, Palo Alto, CA |
| STUDENT: CHEN, GARY | TEACHER: Michael Stern | SCHOOL: Palo Alto High School, Palo Alto, CA |
| STUDENT: HONG, JERRY | TEACHER: Michael Stern | SCHOOL: Palo Alto High School, Palo Alto, CA |
| STUDENT: LI, MATTHEW | TEACHER: Michael Stern | SCHOOL: Palo Alto High School, Palo Alto, CA |
| STUDENT: LIAO, LUKE | TEACHER: Michael Stern | SCHOOL: Palo Alto High School, Palo Alto, CA |
| STUDENT: QU, BRADLEY | TEACHER: Michael Stern | SCHOOL: Palo Alto High School, Palo Alto, CA |
| STUDENT: SONG, ALEXANDER C | TEACHER: Michael Stern | SCHOOL: Palo Alto High School, Palo Alto, CA |
| STUDENT: TANG, MICHELLE | TEACHER: Michael Stern | SCHOOL: Palo Alto High School, Palo Alto, CA |
| STUDENT: WANG, WINSTON | TEACHER: Michael Stern | SCHOOL: Palo Alto High School, Palo Alto, CA |
| STUDENT: WANG, WILSON | TEACHER: Michael Stern | SCHOOL: Palo Alto High School, Palo Alto, CA |
| STUDENT: WU, QUINN L | TEACHER: Michael Stern | SCHOOL: Palo Alto High School, Palo Alto, CA |
| STUDENT: LEE, JUNSUNG | TEACHER: Bret Stewart | SCHOOL: Robert L Paschal High School, Fort Worth, TX |
| STUDENT: NGUYEN, EDWARD Q | TEACHER: Bret Stewart | SCHOOL: Robert L Paschal High School, Fort Worth, TX |
| STUDENT: REEVES, WYATT R | TEACHER: Bret Stewart | SCHOOL: Robert L Paschal High School, Fort Worth, TX |
| STUDENT: ABBOTT, RYAN | TEACHER: Phillip Stewart | SCHOOL: Hopkins School (send PDF to Benjamin Taylor), New Haven, CT |
| STUDENT: Sadun, Jonathan R | TEACHER: John Stormberg | SCHOOL: Liberal Arts & Science Academy HS, Austin, TX |
| STUDENT: RAJENDRAN, VICKRAM | TEACHER: David Stover | SCHOOL: Charter School of Wilmington, Wilmington, DE |
| STUDENT: WIEMAN, HUNTER | TEACHER: David Stover | SCHOOL: Charter School of Wilmington, Wilmington, DE |
| STUDENT: XIE, YUQING | TEACHER: David Stover | SCHOOL: Charter School of Wilmington, Wilmington, DE |
| STUDENT: Im, Chiho | TEACHER: Lawrence Stowe | SCHOOL: Choate Rosemary Hall, Wallingford, CT |
| STUDENT: Klegar, Jacob J | TEACHER: Lawrence Stowe | SCHOOL: Choate Rosemary Hall, Wallingford, CT |
| STUDENT: Xu, Shangda | TEACHER: Lawrence Stowe | SCHOOL: Choate Rosemary Hall, Wallingford, CT |
| STUDENT: Romagnoli, Joseph A | TEACHER: Jason Sullivan | SCHOOL: Montgomery High School, Skillman, NJ |
| STUDENT: Bhattacharyya, Moinak | TEACHER: David Taylor | SCHOOL: Lynbrook High School, San Jose, CA |
| STUDENT: Guo, Nicholas | TEACHER: David Taylor | SCHOOL: Lynbrook High School, San Jose, CA |
| STUDENT: Lee, Edward W | TEACHER: David Taylor | SCHOOL: Lynbrook High School, San Jose, CA |
| STUDENT: Meng, Sean T | TEACHER: David Taylor | SCHOOL: Lynbrook High School, San Jose, CA |
| STUDENT: Dai, Jack Z | TEACHER: Michael Thompson | SCHOOL: Thomas S Wootton High School, Clarksburg, MD |
| STUDENT: Neves, Paul M | TEACHER: Michael Thompson | SCHOOL: Thomas S Wootton High School, Clarksburg, MD |
| STUDENT: Sahiner, Arda E | TEACHER: Michael Thompson | SCHOOL: Thomas S Wootton High School, Clarksburg, MD |
| STUDENT: Peng, Fei | TEACHER: Peng Tian | SCHOOL: Princeton International Sch of Math and Sci, Princeton, NJ |
| STUDENT: Zhou, Ziqi n | TEACHER: Peng Tian | SCHOOL: Princeton International Sch of Math and Sci, Princeton, NJ |
| STUDENT: masroor, faraz | TEACHER: Iuliana Vaida | SCHOOL: Gulliver Schools, Pinecrest, FL |
| STUDENT: LEE, HELENA | TEACHER: Srini Vas | SCHOOL: Home School, Santa Clara, CA |
| STUDENT: SARODIA, SHIVAM | TEACHER: Raquel Von Handorf | SCHOOL: Centerville High School, Centerville, OH |
| STUDENT: LEVY, ISHAN | TEACHER: Janet Waldeck | SCHOOL: Pittsburgh Allderdice High School, Pittsburgh, PA |
| STUDENT: UM, COLIN H | TEACHER: Eryn Walsh | SCHOOL: La Canada High School, La Canada Flintridge, CA |
| STUDENT: Mallela, Prahaladha | TEACHER: Eric Walters | SCHOOL: Westview High School, Portland, OR |
| STUDENT: CHEN, JAMIN G | TEACHER: Sherry Wang | SCHOOL: SpringLight Education Institute, San Jose, CA |
| STUDENT: WANG, ALEX | TEACHER: Sherry Wang | SCHOOL: SpringLight Education Institute, San Jose, CA |
| STUDENT: AMOROSSO, ROCCO | TEACHER: J. Peter Watt | SCHOOL: Phillips Andover Academy, Andover, MA |
| STUDENT: JOW, JONATHAN | TEACHER: J. Peter Watt | SCHOOL: Phillips Andover Academy, Andover, MA |
| STUDENT: VENIGALLA, ABHINAV S | TEACHER: J. Peter Watt | SCHOOL: Phillips Andover Academy, Andover, MA |
| STUDENT: WANG, MAXIAR H | TEACHER: Billy Wells | SCHOOL: Allen High School, Allen, TX |
| STUDENT: WHATLEY, DANIEL A | TEACHER: William Whatley | SCHOOL: Whatley Homeschool, Spring, TX |
| STUDENT: Wu, Sarah A | TEACHER: Samuel Wheeler | SCHOOL: North Carolina School of Science & Math, Durham, NC |
| STUDENT: Yang, Justin | TEACHER: Samuel Wheeler | SCHOOL: North Carolina School of Science & Math, Durham, NC |
| STUDENT: Liu, Vincent S | TEACHER: Robert White | SCHOOL: State College Area School Dist, State College, PA |
| STUDENT: Pauley, Eric A | TEACHER: Robert White | SCHOOL: State College Area School Dist, State College, PA |
| STUDENT: Van Hook, Jacob A | TEACHER: Robert White | SCHOOL: State College Area School Dist, State College, PA |
| STUDENT: LIU, ALLEN | TEACHER: David Wiener | SCHOOL: Penfield  High School, Penfield, NY |
| STUDENT: RIZZI, LOUIS A | TEACHER: Rhett Woo | SCHOOL: New Horizons Governor's Sch Sci/Tech, Hampton, VA |
| STUDENT: CHERN, KEEFER W | TEACHER: Norman Xie | SCHOOL: STEM ELITE INSTITUTION, Chino Hills, CA |
| STUDENT: Huang, Richard | TEACHER: David Yoder | SCHOOL: Beavercreek High School, Beavercreek, OH |
| STUDENT: AN, SEUNG HWAN | TEACHER: Lin Yu | SCHOOL: Olympiad Academia, New York, NY |
| STUDENT: Yang, Hao Bang | TEACHER: Tianyi Yu | SCHOOL: Rutgers State University - Piscataway, Piscataway, NJ |
| STUDENT: CHEN, VICTOR C | TEACHER: Yuriy Zavorotniy | SCHOOL: Bergen County Technical High School, Teterboro, NJ |
| STUDENT: LIU, TIANHAO | TEACHER: Shengyan Zhang | SCHOOL: Home School Proctor, Temple City, CA |
| STUDENT: SHEN, XINCHENG | TEACHER: Shengyan Zhang | SCHOOL: Home School Proctor, Temple City, CA |
| STUDENT: Alweiss, Ryan N | TEACHER: Igor Zubov | SCHOOL: Bergen County Academies, Hackensack, NJ |
| STUDENT: Hahn, Sangwoo | TEACHER: Igor Zubov | SCHOOL: Bergen County Academies, Hackensack, NJ |
| STUDENT: Kim, Hyeongmin | TEACHER: Igor Zubov | SCHOOL: Bergen County Academies, Hackensack, NJ |
| STUDENT: Lee, Sung Hyup | TEACHER: Igor Zubov | SCHOOL: Bergen County Academies, Hackensack, NJ |
| STUDENT: Sabini, Mark W | TEACHER: Igor Zubov | SCHOOL: Bergen County Academies, Hackensack, NJ |
| STUDENT: Wang, Kelvin | TEACHER: Igor Zubov | SCHOOL: Bergen County Academies, Hackensack, NJ |
| STUDENT: Yang, David K | TEACHER: Igor Zubov | SCHOOL: Bergen County Academies, Hackensack, NJ |