Background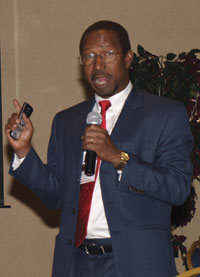 Since 1996, the American Association of Physics Teachers has sponsored workshops designed to help new faculty at research and four-year institutions understand how to become more effective educators and support their quest to gain tenure.
Because of the pressure to establish their credentials in research or other scholarly activities, new faculty may be tempted to postpone or ignore the development of teaching proficiency. They may receive direct or subtle messages suggesting that only a focus on research will result in career advancement, and there is often a lack of mentors or role models who demonstrate dedication and enthusiasm for teaching.
Similar signals are transmitted to graduate students who may be in training for academic careers. Moreover, because the research universities include many of our large public institutions, a large number of undergraduates may suffer as a result of inadequate preparation of new faculty for teaching.
Data suggest that this inadequate attention to teaching, especially in introductory science and math courses, is responsible for driving students away from undergraduate majors in science, mathematics and engineering.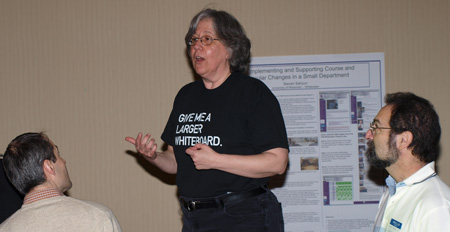 To improve the quality of physics teaching on a national scale, AAPT created the New Faculty Workshop. Each workshop presents a small number of techniques that have proven to be effective in a variety of environments. These tactics can be implemented with minimal time and effort, thus allowing new faculty to devote more of their attention to research and scholarship.
In 2002, the American Physical Society and the American Astronomical Society joined with AAPT to expand the reach of this program. Financial support is provided by the National Science Foundation.
What the Workshop Covers

A group of leading figures in physics education has committed its time and effort to participating in the program on an ongoing basis. Leading physics education researchers tackle topics including:
the difficulties that students encounter with physics concepts
how-to strategies for teaching problem solving
ideas for interactive teaching and peer instruction
the proper uses of technology in lecture and lab settings
issues dealing with undergraduate enrollment, curricula, and retention
case studies on how to teach inclusively so that all students have equal opportunities to succeed
Some of the things that the Workshop offers to new faculty:

A focus on the introductory course along with lessons that apply to advanced undergraduate and graduate courses
Presentations surrounding effective teaching ideas that can be reproduced with minimum time and effort
Exploration of new developments in physics and astronomy curriculum and pedagogy
Materials provided for immediate application in the classroom

Facilitated discussions between new faculty, guided by a resource person. Popular topics include: promotion and tenure issues, dual-career couples, time management, and balancing professional and personal activities
Opportunities to meet with program officers from the National Science Foundation's research and education directorates

How to Participate

Each spring and fall, department chairs at research and four-year institutions are asked to nominate tenure-track faculty in the first few years of their initial appointment. The ideal candidate would have a year or two of teaching experience so that they are aware of the challenges of the first year of teaching.
Participation continues to increase, with numbers reaching nearly 100 at each workshop. The program has grown in popularity, and for the last several years many qualified participants have had to be turned away and placed on a waiting list for the next workshop.
Many department chairs have seen the positive effect that participation in the workshop has had on their new faculty, and have sent more people in subsequent years.
The department chair is asked to verify that the institution will pay for the participant's travel to the workshop, which is usually held at the American Center for Physics in College Park, MD. A grant from the National Science Foundation pays participant costs for lodging and meals.