Did you know?
In 2010 over 54 million people visited Orlando for vacation or business, making it one of the largest tourist destinations on Earth. — www.mydestination.com
We impress upon you the importance of fulfilling AAPT's financial obligations to the Rosen Plaza Hotel. We appreciate everyone's support in booking within the official AAPT hotel blocks.  Learn more about helping AAPT avoid attrition fees.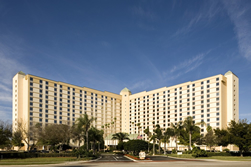 Rosen Plaza Hotel
9700 International Drive
Orlando, Florida 32819
407-996-9700
Single/Double:  $129*
Additional Person: $20
* This rate includes complimentary guest room internet and self parking
Reservations can be made directly with the Rosen Plaza Hotel by calling 1-800-627-8258.  You must request the group rate for the AAPT 2014 Meeting. You can also book a room online by clicking here.

The deadline date has been extended to Wednesday, December 11, 2013, by 5:00 p.m. EST.  The nights of January 5-6 are sold out.  The hotel is offering a wait list for the sold out nights.

Rosen Inn at Point Orlando
9000 International Drive
Orlando, FL 32819
407-996-8585
Single/Double: $89*
Additional Person: $20
This rate includes a refrigerator, microwave, complimentary in room wireless and free parking

A small block of rooms has been reserved at the Rosen Inn at Point Orlando, which is about a 10 minute walk from the Rosen Plaza Hotel.  To make a reservation you must call the hotel directly at 1-800-999-8585 and ask for the group rate for the AAPT 2014 Meeting. This small block of rooms will fill-up quickly, so we suggest that you book early.