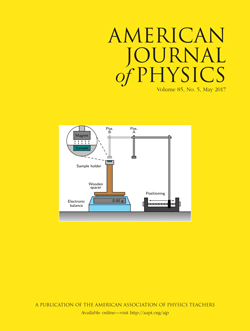 AAPT announces that Richard Price, Massachusetts Institute of Technology, will assume the position of Editor for the  American Journal of Physics in September 2017, following the term of David P. Jackson.
Read more.
May 2017 Issue, Volume 85, No. 5
Determining magnetic susceptibilities of everyday materials using an electronic balance by Daniel Laumann, and Stefan Heusler. DOI: 10.1119/1.4975588
The magnetic properties of an object and its interaction with an external magnetic field can be described through the magnetic (volume) susceptibility χV, which divides nearly all kinds of matter into diamagnetic, paramagnetic, and ferromagnetic substances. Quantitative measurements of χV are usually technically sophisticated or require the investigation of substances with high values of χV to reveal meaningful results. Here, we show that both diamagnetic and paramagnetic effects in everyday materials can be measured using only an electronic balance and a neodymium magnet, both of which are within the reach of typical introductory college and high school physics classrooms.
Papers
Determining magnetic susceptibilities of everyday materials using an electronic balance by Daniel Laumann, and Stefan Heusler. DOI: 10.1119/1.4975588
Inexpensive robots used to teach dc circuits and electronics by David L. Sidebottom. DOI: 10.1119/1.4979648
On the physics of propagating Bessel modes in cylindrical waveguides by J. E. Gómez-Correa, S. E. Balderas-Mata, V. Coello, N. P. Puente, J. Rogel-Salazarm, S. Chávez-Cerda. DOI: 10.1119/1.4976698
The Coulomb potential in quantum mechanics revisited by A. A. Othman, M. de Montigny, and F. Marsiglio. DOI: 10.1119/1.4976829
One hundred years of Moseley's law: An undergraduate experiment with relativistic effects by Tomas Soltis, Lorcan M. Folan, and Waleed Eltareb. DOI: 10.1119/1.4977793
Cyclotron motion of a charged particle with anisotropic mass by Orion Ciftja, Victoria Livingston, and Elsa Thomas. DOI: 10.1119/1.4975599
Determining the value of the fine-structure constant from a current balance: Getting acquainted with some upcoming changes to the SI by Richard S. Davis. DOI: 10.1119/1.4976701
The key role of Oersted's and Ampère's 1820 electromagnetic experiments in the construction of the concept of electric current by Christine Blondel, and Abdelmadjid Benseghir. DOI: 10.1119/1.4973423
PHYSICS EDUCATION RESEARCH
Transforming physics educator identities: TAs help TAs become teaching professionals by Anneke L. Gretton, Terry Bridges, and James M. Fraser. DOI: 10.1119/1.4978035
APPARATUS AND DEMONSTRATION NOTES
Using flatbed scanners in the undergraduate optics laboratory—An example of frugal science by Thomas Koopman, and Venkatesh Gopal. DOI: 10.1119/1.4978034
BOOK REVIEWS
A Student's Guide to Python for Physical Modeling by John R. Leeman. DOI: 10.1119/1.4973375
BOOKS RECEIVED
American Journal of Physics 85, 400 (2017); http://doi.org/10.1119/1.4979294