Coaches Page
Team Facts & News
From 1986 to 2015, the United States Teams have brought home: 56 Gold Medals, 38 Silver Medals, 29 Bronze Medals, and 11 Honorable Mentions. — AAPT.ORG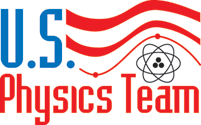 Contact Information
For more details and information about the US Physics Team, please contact AAPT's Programs department at 301-209-3340 or programs@aapt.org
Director
Paul Stanley

Academic Director

Paul is the Dobson Professor of Physics and Astronomy at Beloit College. He has worked for the US Physics team since 2003. His research involves classical and quantum chaos, and varies between highly theoretical, heavily computational, and playfully experimental. In his spare time he plays the trumpet semi-professionally, and he travels, having visited over fifty different countries.
Coaches
Chrisy Xiyu Du

Junior Coach

Chrisy is a graduate student studying physics at the University of Michigan. Her research interests include statistical mechanics and soft condensed matter. Right now she is working on understanding the role of shapes in colloidal self assembly.

Mark Eichenlaub

Junior Coach

Mark is a graduate student studying physics education research at University of Maryland. His research uses both qualitative and quantitative methods to understand cognitive aspects of problem solving in introductory physics for the life sciences. He has always enjoyed a good physics problem and is looking forward to his first summer working with the physics team!

David Fallest

Senior Coach

Dave is a scientist working at the NSWCDD. While earning his Ph.D. At North Carolina State University, he conducted soft condensed matter experiments and numerical astrophysics research. When not teaching or researching, David enjoys his favorite pastime -- juggling.

Eugen Hruska

Coach

Graduate student at Rice University. His research interest lies in statistical physics and computational biophysics, mainly around protein folding. He competed at IPhO four times.

Mikhail Kagan

Coach

Assistant professor of physics at Penn State Abington. His research interests are in the fields of quantum gravity and cosmology, as well as physics education. Recently Mike got interested in the interplay between electrical circuits, random walks and graph theory.

Kevin Zhou

Junior Coach

Kevin is a rising senior at MIT studying physics, math, and music. He was a gold medalist in 2012 and 2013 and is excited to be returning for his second year junior coaching.