K-12 Teachers' Day
A special day has been prepared on Sunday, January 19 for K-12 physics teachers and administrators who have never attended a national AAPT Meeting.  Qualified teachers and administrators will receive a discounted registration fee of $85. This fee is much less than the usual early-bird one-day registration fee of $390 for AAPT members and $615 for non-members.  We are offering this special registration fee, because we want to encourage you to sample what AAPT has to offer K-12 educators. We are confident that once you see what AAPT has to offer, you will become an active AAPT member.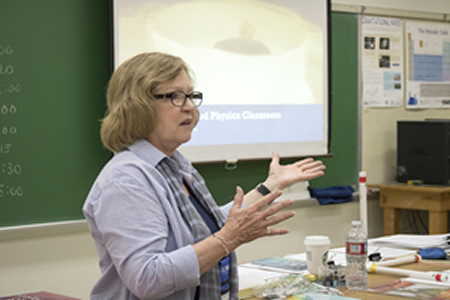 Enjoy lunch with colleagues, while l
earning more about resources available through AAPT that can help you improve student learning of physics including:
Adopt-a-Physicist

ComPADRE Digital Library of Free Online Resources

Contests: Physics Olympiad, Physics Bowl, & Photo Contest

eMentoring

High School Physics Teachers Grant

Journals: The Physics Teacher & American Journal of Physics

Physics Teaching Resource Agents (PTRA)
Attend Sessions Related Specifically to K-12 Physics
21st Century Physics in the Classroom

30 Demos in 60 Minutes

Student-driven Inquiry

Theory Meets Practice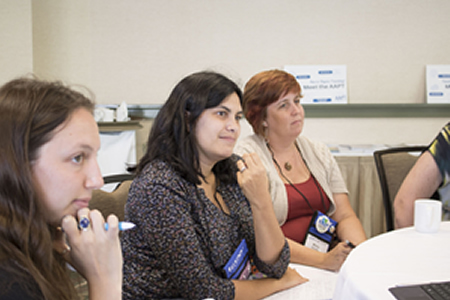 Attend Weekend Workshops (workshops are an additional cost)
Coding Intergrantion in High School Physics Courses

Intro to Modeling Instructions, A PER-based Curricula

Fun and Engaging Labs

Updates to AP Physics
Additional Activites
Visit the vendor exhibit area to see the latest lab/demo equipment and textbooks

Visit the K-12 Teachers' Lounge

Attend the meeting of the Committee on Physics in High Schools/Committee on Physics in Pre-High School Education

Develop professional relationships with physics teacher colleagues
Cancellations
A $30 processing fee will be applied to all cancellations.