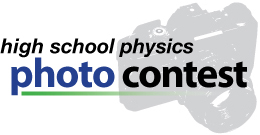 Statement regarding COVID-19
Dear members of the Physics Community,
It is with regret that we are announcing the cancellation of the 2021 High School Physics Photo Contest.
Due to the fact that many schools are uncertain about when they will reopen, we have decided that it is best to cancel the contest.
Thank you for your understanding and flexibility in these uncertain and rapidly changing times in which we find ourselves. Also, thank you for your support of AAPT!
AAPT High School Physics Photo Contest
The AAPT High School Physics Photo Contest is an international competition for high school students.  For many years this contest has provided teachers and students an opportunity to learn about the physics behind natural and contrived situations by creating visual and written illustrations of various physical concepts.  Students compete in an international arena with more than 1,000 of their peers for recognition and prizes.
Sponsored in part by Vernier Software & Technology
Supported by the Committee on Physics in High Schools and the Committee on Educational Technologies.
Disclaimer: The accuracy of the photo essays submitted by the High School students in their explanation of the physics demonstrated by the photo is the responsibility of the students and their teachers. AAPT does not subject the essays to peer review.
The copyright to all photos submitted for this contest belongs to AAPT.  Use of the photos from the website for educational purposes is permitted.  However, all other print or digital use requires permission.
Past Winners - Photos and Posters
Photo Contest Registration is March 1 to May 15
Questions
For any questions regarding the contest or registration, please contact the AAPT High School Physics Photo Contest at photocontest@aapt.org, or 301-209-3340.