Powerful Ideas In Physical Science
Jump to PIPS Samplers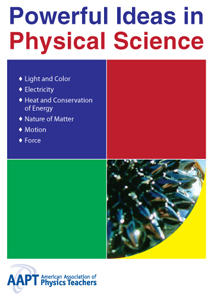 The Powerful Ideas course model is intended for faculty who teach college students who are studying to be tomorrow's elementary educators. The six volumes that make up the Powerful Ideas materials were developed and field tested under NSF DUE Grants 9496330 and 9554625 by teams of physics and physical science educators with experience in guided inquiry teaching methods. The course content focuses on those physical science concepts that are initially introduced in elementary science curricula.
The flexible materials can be easily modified to build an introductory physical science course for non-science majors. Easy-to-use worksheets and a structured questioning pattern enables pre-service teachers to experience a hands-on, inquiry-based learning experience that models the way their students should experience science learning. The college instructor's materials parallel student activities and provide important insights and instructional background. Assessment strategies are included to assist faculty in developing techniques that assess meaningful learning.
The six volumes: Light and Color, Electricity, Heat and Conservation of Energy, Nature of Matter, Force, and Motion can be used chronologically or in optional order.
To offer a course constructed and modeled on Powerful Ideas in Physical Science, the department needs to purchase only one set of course development materials. These materials include student and instructor materials, rights to copy and distribute student materials, and access to a discussion list of Powerful Ideas users. No other textbook is necessary. Departments who have adopted the curriculum materials often sell the student materials in course packets through their bookstores which allows the department to recover the initial cost of the modules, as well as provide a source of funds to purchase materials that can be used in the course.
PIPS Samplers & Downloads
Links to sample student and instructor materials in pdf format for each of the volumes are given below. In addition, a PDF file "Constructing Your Course" is provided which describes the theoretical basis for the Powerful Ideas in Physical Science curricular materials.
Student Samplers
Instructor Samplers
To order, visit the AAPT Store.