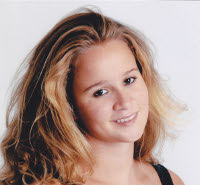 Christina Brasco
Grade:
Senior
Hobbies
diving, being outdoors, hanging out with friends, occasional video games
Clubs
Weston High School Varsity Swim/Dive Team, Next Generation Diving, National Honors Society
Experience
National Merit Finalist, 3-time member of JETS CT D5 State Champion team (2008 and 2009 (Captain) JV, also national runners-up in 2009; 2010 (Captain) Varsity, also National Champions), 4th place in 2010 CT Chemistry Olympiad Preliminary Exam, 2008 WHS Math and Chemistry Award Recipient, RPI Medalist, 2009 Gold Medalist on National Spanish Exam (Level 4), Member of WHS's 2010 Yale Physics Olympics team, Member of 2009 and 2010 (Triage Survivors) M3 Teams, Member of Weston's 2010 "The Challenge" team
Bio
I attend Weston High School in Weston, CT. I have lived in this small town since I was a toddler and love it here. I'm a senior this year and I'm taking a lot of fun classes. Next year, I'll be attending Yale University where I hope to study Chemical Engineering or Applied Physics, although being a Math major is a definite possibility as well.
Outside of school, I really only have one major extracurricular activity: diving. I have been diving for almost seven years and will be a member of the Yale team come fall. I have competed at the national level for a few years and currently hold all of Weston's diving records. I was recognized as an All-State athlete for four consecutive years and won our State Class S and conference meets for the last two years, also holding the conference record. It's a huge part of my life: I have learned to focus, act under pressure and have made many great friends through the sport. I also played violin for several years, but stopped when excelling at both activities required too significant of a time commitment.
I have always been attracted to the fields of math and science. During my younger years, the joy of solving problems and thinking critically enchanted me. In high school, I've tried to learn as much as possible about these areas, taking 6 science and 6 math classes since freshman year. When my physics teacher told me about the Preliminary Exam for the U.S. Physics Team, I was excited about the opportunity it presented. When I made the Semi-Final cut, I was overjoyed but nervous about the amount of material I'd never seen that could be on the test. Between learning I was a semi-finalist and taking the exam, I spent more time studying (learning, really) than I have for any test in my entire life. I had no expectations going into the test, determined to do my best and let the chips fall where they may, but felt confident having left it. I was ecstatic to finally learn that I was picked for the team and am sure that the Training Camp will be one of the most interesting and rewarding experiences of my academic life thus far.
For me, there is no greater joy than learning more about the world around us and being able to understand why things are the way they are. Since first taking physics as a sophomore, I have found that it offers exactly that. Its applications in literally every aspect of life have captivated me since the start. As a diver, I'll often find myself thinking about rotational momentum and moments of inertia when somersaulting through the air. The knowledge I have gained in the last few years of physics classes will surely stay with me for the rest of my life, especially when I continue to study it in college next year.
« back to the team
Disclaimer: Information in Physics Team profiles is provided by the Team members and is in no way a reflection of AAPT's opinions or views.