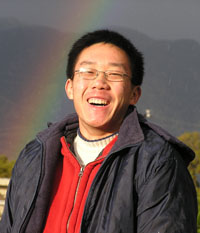 Yi Li
Arcadia, CA
Arcadia High School
Grade:
Junior
Hobbies
Wikipedia, Tennis, Physics, Frisbee, Reading, Badminton, Starcraft, Programming, Running, Music, Meeting new people, Talking to friends.
Clubs
Arcadia High School Physics Team, Science Olympiad
Bio
From a very early age on, I was determined to literally wake up the tiny sleepy town I was born in. My daily routine included: chasing after squirrels, getting into fights with other kids, and tossing firecrackers into unlikely places. My first encounter with physics was unexpected. I swung a swing too high and flew off in-bingo!-classic trajectory motion. The landing was a spectacular display of an inelastic collision, the loss of mechanical energy converted into memorable pain.
As I grew older, my excessive energy reluctantly shifted to a more seemly side. I studied some math, and tested into a boarding junior high school. There, while forming many lifelong friendships, I amused myself with the study of physics.
When I moved to the U.S. near the beginning of my high school freshman year, I did not bring along that sense of ease-the new scorching sun of California made me tough. I was labeled as an ESL student, fighting to distinguish "kitchen" from "chicken," to combine three-word sentences into longer ones. I began to focus on my study of physics ever so seriously, reading through different textbooks, looking for help from teachers and friends, and only rewarding myself with the excitement that comes after a long-sought, yet elegant solution.
My high school experience has been defined by my efforts with English and my study of physics. If English was my enemy, then physics was my friend. Both experiences paid off when I received the long-awaited admission letter to Advanced Placement Junior English, and the United States Physics Team.
I would like to thank all who have supported me with simple words and casual smiles. I am especially grateful to my physics teacher, Mr. Shenyang Zhang, whom I bug quite often for answers to the strangest physics questions, and from whom I draw much inspiration. Also, I cannot give enough thanks to my English teacher, Mrs. Judy Swift, who has supported me with the most warmhearted encouragement, wouldn't take LOL to mean "little old lady," and recently teased me, saying, "Vincent, you need to go back and review your grammar!"
I look forward to meeting all of you at this year's camp!
« back to the team
Disclaimer: Information in Physics Team profiles is provided by the Team members and is in no way a reflection of AAPT's opinions or views.