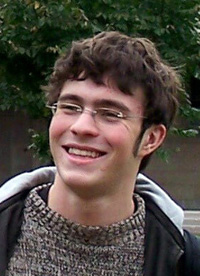 Eugene Rabinovich
Solon, OH
Solon High School
Grade:
Junior
Hobbies
Playing piano, listening to music (anything between 1730 and 1975), reading French literature, taking walks, and solving physics problems
Clubs
Science Olympiad, The Friendship Circle, Academic Challenge/Quiz Bowl, Future Problem Solving, Math Club
Experience
Captain of the 2008 National Champion Science Olympiad Team, two performances at Carnegie Hall as a winner of the World Piano Competition in Cincinnati
Bio
In the same way that kids often have the "cool" uncle whom they revere and whose visits they await, I too have my cool uncle, and this uncle does things far more impressive than hold his thumb between his fingers and pretend it's my nose: my uncle can explain how things work. Oscar, my physicist uncle, has a love of teaching that's obvious even when he's thousands of miles away from his students. I remember most specifically the summer of 2004, when my uncle taught me the bare-bone fundamentals of trigonometric functions and the unification of electricity and magnetism. That same summer he left me with a copy of "The Flying Circus of Physics" by Jearl Walker for my 12th birthday. As I became more and more interested in physics, I would turn to "Physics" by Douglas C. Giancoli and "Fundamentals of Physics", another Walker work (originally by David Halliday and Robert Resnick). Meanwhile, I became increasingly involved in Science Olympiad and took my first classes in physics, both of which only deepened my understanding and passion for physics.
In order to come to the training camp, I had to make a difficult decision; by accepting the invitation to the US Physics team, I had to forfeit my spot on a nationally ranked Science Olympiad (SO) team, one of the best that Solon High School has ever had and Ohio state champions for the first time in eight years. The choice was particularly hard because I owe my success in the Physics Olympiad in part to my participation in Science Olympiad. More importantly, I've been involved in Science Olympiad since seventh grade and have truly appreciated working together with 14 other talented people. After wrestling with the choice for a couple of nights and talking to my SO team members and coaches, I decided to join this team to focus entirely on physics. I have full confidence that my SO team will perform excellently at the National Tournament and am glad that its members have been supportive of my choice. I wish them all the best and hope to see them as national medalists soon.
But what is it about physics itself that I find so interesting? I think a large majority of human intellectual endeavors involve decomposition. We break down something until we have some fundamental unit-an atom, if you will-and some rules for how those atoms go together and interact. The method is universal: in language, in arithmetic, even in music theory. It's part of our way of understanding. We're incessant Lego builders. So, why physics of all these things that are so similar at their core? Though I love studying French and music (theory), physics endeavors more than any other science or art to explain all phenomena, from the interactions of the smallest particles to the behavior of the entire universe. The study of physics allows us to put a rigorous method to the task of explaining the universe, and I love being able to apply these rules to a system and predict how it will behave. It is often said that science is black-and-white, but I think that the development of quantum mechanics shattered that deterministic way of thinking. We know now that we can never be certain of anything, though we know exactly how close to certain we can be. And though my cool uncle didn't show me all that, he certainly got me started.
« back to the team
Disclaimer: Information in Physics Team profiles is provided by the Team members and is in no way a reflection of AAPT's opinions or views.