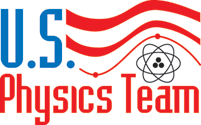 Did you know?
From 1986 to 2017, the United States Teams have brought home: 61 Gold Medals, 43 Silver Medals, 29 Bronze Medals, and 11 Honorable Mentions. — AAPT.ORG
Yes, I want to support the Physics Olympiad! My donation will promote academic excellence through preparation for and participation in the International Physics Olympiad by helping U.S. Students:
Win medals and compete successfully on an international level;
Expand awareness of and participation in the program;
Provide a meaningful scientific and cultural experience for team members, including opportunities to network and meet new people, learn in intellectual and experiential ways, and gain international exposure.
If paying by credit card, you may use our secure online form.  If you prefer to contribute by phone, please call (301) 209-3333 from 8:30 am - 5:00 pm (Eastern Standard Time), or fax your pledge form to (301) 209-0845.
If paying by check or money order mail your pledge form to:
U.S. Physics Team
American Association of Physics Teachers
One Physics Ellipse
College Park, MD 20740-3843
Physics Olympiad Donor Form (PDF)
(Check and money orders must be made in U.S. dollars from a U.S. bank payable to AAPT)
Contact Information
For more details and information about the U.S. Physics Team, please contact AAPT's Programs department at 301-209-3340 or programs@aapt.org